Where do I start...... Well, it's probably old news by now, but Team PC Racing (Me & Chris) have agreed to ride for 'Martin Bullock Raceteam' this year on brand new Honda machinery...... I will be riding the new Honda CBR600RRs, and will have a production spec RR for the start of the season and the Production 600 TT (which I already have in my possession), a Supersport tuned RR for the Steam Packet Races, then will have the Supersport RR along with a Junior Spec tuned one for the Southern 100 and Manx Grand Prix...... Martin is confident that they will be among the best, if not the best bikes out there, and after the way the Suzukis he had went past me last year, who am I to argue with him!......... He reckons that the Hondas will be better...... MBR have won a lot of Manx Grand Prixs with guys who might not have won them if they hadn't been on his bikes....... so hopefully, I can continue that trend..... I'll be trying to that's for sure.
Amazingly enough I had a few offers of other rides, and those people know who they are, and I can't thank them enough for considering me, and to turn them down was something that I found hard and didn't like to do....... It's not often that someone will come along and offer you something like that. I actually was offered a better deal, but went down the road of what I hope to be the better bikes...... as I now understand why you need the best machinery that you can get.... Before, I was just glad to be on something fast and to be out there, but you have to be on the same page as all the top fellas, and not start with a disadvantage like having inferior machinery, I'm already at a disadvantage, as most of them are a lot more experienced than me (and believe me that counts for a lot)..... but there's nowt you can do about that except to put the miles in. Martin also met me halfway on most of the things that I asked for, so I couldn't argue with that, hence the reason we'll be doing the Southern 100, something that MBR never usually competes in.... but we are now.....!! And I hope to be closer to the front than on previous occasions....... well, in the 600 races at least.
We also got the Team PC Racing R6 Yamaha fixed, after it failed in both the Junior and Senior Races in last year's Manx GP........ the problem was eventually traced to the Inlet Valve Seat in the cylinder head..... that was after both the fuel system and electrical system were overhauled at least once!..... anyway to cut a long story short, we didn't want to f*ck about and botch it, so we bought a 'brand new' cylinder head (they cost £1100 + VAT.... disaster!!) to replace the old one...... then we had to get it tuned to spec...... then it had new valves, springs etc, etc, etc... it also had the bottom end done, shells, rings etc, etc ........ the whole job cost close on £3k....... but like I said before, something that goes that fast and revs that hard, I'm taking no chances...... It should be mega now..... it's practically a new bike with all that done! Should get the chance to test it properly in the next couple of weeks..... I would sell it if somebody gave me what I want for it (6 grand), otherwise it would be like giving it away...... there won't be many faster 600 around..... so it will be a spare if nothing else.... We might even rent it out for the TT this year, as I won't be eligible to ride it.....
Team PC have purchased a new van for this year's campaign, she's a bright 'Yum Yum Yellow' Renault Master Van, which should give us a lot more comfort than the old M.Benz that we have had for the last 4 years, and you'll see us coming if nothing else!.......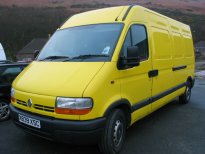 I've recently sold the old "'Hitler's Revenge" to a newcomer to racing this year, so it will be spotted up at Jurby, so she should feel at home! We have also sold our ex TAS Suzuki GSXR1000 to another local lad, so that will still be on the Island as well...... Haven't really got a big bike lined up, did have one for the Production 1000 TT, but that seems to have fallen through just in the last couple of days..... Bollocks!
The season is gonna start at Croft on the 19th March at the test day that they are running, followed by two days of competing on Saturday 20th & Sunday 21st.... Gonna be debuting Stuey's new Big Iveco 75E15 Race Truck that he's still in the middle of fitting out.... so we should have all the comforts of home. There are quite a few Manx Lads going to Croft, could be as many as ten... so it should be a good laugh...... There should also be Manx Grand Prix lads like Craig Atkinson and Dave Bell there, as well as Wee Bob Grant, Les Shand, MRO Champ Chris Platt, Croft Champion Phil Stewart to name but a few...... so it should be a hoot..... and Bloody Faaaaasst...... I'm only planning on wobbling round however, as I will only be on the Production 600, which funnily enough is in Production trim..... so will not be winning much on that...... but will also be taking the R6 for a spin..... oh yes indeedy..... he who knocks the most people on the grass....wins!
Sam at Celtic Leathers has my design for my new leathers, which took me ages to design, and hopefully he'll have them done for the first road race that I will be competing in...... and that will be the May Round of the Andreas Racing Assc Centre Championship on Jurby South Road.... so should look like a new pin when that comes round. They're gonna have Total Oils plastered on them, as well as others of course...... and there is always room for more sponsors.... hint, hint!
Been getting mesen fit by joining the NSC Gym...... only trouble is that you don't get fit just by joining, you actually have to put the work in...... so it's been a hard slog the last couple of months.... but feeling the benefits of it..... got to, and am going to keep it up..... it's pretty physical wrestling a bike around the TT course, and the faster you go the harder it is, so in theory... the fitter you are the less effort it should be...... you have to take your hat off to the blokes that can do 125mph+....... must be hanging on like hell at that speed... so hopefully all the time and effort spent in there will stand me in good stead.
Also bought my good mate Kinnish's old YZ250 motocross bike to get fit on......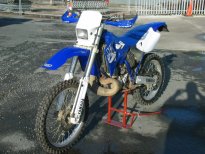 but have only been out on it the once! Have had too much to do and too many bikes etc, to get sorted to spend the time on it...... hopefully I'll get out and crash it soon!!....... as long as I don't bend meself, I'll take that as a result. My sister Angie and brother in law, Mike, have also sponsored me a new Dell lap top computer, which obviously has a multitude of uses, so that I can get my diary done actually at the track, instead of making notes and then going home and typing it in...... this way it should be uploaded quicker.... technology is wonderful innit..... it will also enable us to watch DVDs on the Ferry to relieve the boredom of just sitting there..... with the prices the Steam Packet charge, they should include a fucking cabaret.... but now we will have our own entertainment..... factory!
So, the first outing of the Season will be at Croft in the North East of England, followed by the opening round the following week at Jurby Airfield, where I believe that we will be using the new track extension...... that will be interesting..... anybody who wants to come up and Marshal it would be more than welcome....
So tune back in for the first very exciting episode of the new 2004 season in about two weeks time..........
Cheers,


.

.

.

..

..

.

.........