Monday 31st May
Stuey and Willy had the bike all fettled by the time I had tipped up in the paddock, and they were already lined up at the scrutineering bay…… over 3 hours early!…… good job they did because there turned out to be a massive queue…… Ian 'Hutchy' Hutchinson, or the Bike Doctor, as his business is known, stripped and set the forks for us, and lashed the new seals in…… We tinkered about with the suspension settings and set it to what it had been plus a few extra clicks just to try it…… anyway we were set, so went to get me helmets fettled etc etc…… While we were at it we found out why the scooter wasn't firing up…… the engine and exhaust was completely full of water…… Doh!…… think the base gasket between the block and the crankcases had gone and all the water had drained into the engine, and when we tried to start it, it filled the exhaust up…… might be the end of me poor paddock bike……… RIP……… (rest in pieces).
There was no wind out, and it was bone dry, but a lot of cloud and rain was forecast for later…… hoped that it would hold off so we could get a dry practise…… Decided on trying out my old gloves, which are absolute crap, and are a bit 'baggy', but lashed some tape around them so that they would feel less so…… there is plenty of 'feel' in them, but that's probably down to the fact that they were dirt cheap and f*cking rubbish, there's more leather in a friggin bookmark, but was gonna try them all the same. Stuey had me at the front of the pack, and I was lined up alongside Ryan Farquhar on his Junior mount………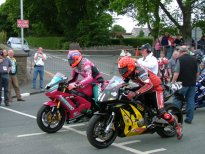 well, lets see how long I can tail him for…… didn't expect it to be too long as his bike should be way faster and he's also the lap record holder in the Junior TT at 122.30mph. The lights changed to green and we were off…… I led at first then his superior power came into play and he drove past me…… was right up his chuff down Bray Hill and we both hit it flat out, and was still up his arse at the QB…… he got the power down earlier than me and pulled a few yards, but I was on his tail in and out of Braddan Bridge……… same deal round Union Mills, the he started to pull away a bit up the Ballahutchin…… it was at this point that I thought it would be bye bye Ryan…… but no, made up some good ground rounding Ballagarey, and nearly ran in the back of him!, he obviously had rolled it more than me…… picked a bit of a wide line to avoid him and tucked back in his slipstream…… Team PC Racing manager, Chris was standing in the churchyard before Crosby, so I gave him a nod on the way past, whilst only a few inches away from Flyin Ryan……… took the corner into Crosby flat in top, still slipstreaming him…… was well impressed that the little Bullock Production Honda was keeping up…… had to keep reminding myself that it was only a proddy bike and not to try too hard…… Was still right up his chuff all the way to Ballacraine, and I must say his lines were about the best I've followed so far, and nice and tidy as well…… Stayed with him all the way to Glen Helen, where he took a tighter line than me, but was still pretty close to him…… up to Sarah's Cottage, Anstey came underneath me on his Junior bike……… Bollocks, said I……… he had taken 10 seconds out of me in 9 miles…… even though I was only on the proddy bike and he was on his tuned TAS 600 Suzuki…… I was hoping I could have held him off for longer…… but its all a learning curve for me……… and the way that Anstey is going, anybody that finishes ahead of him will probably win it…… I reckon he's good for a couple of wins at least……… Both Productions and/or the Junior TT……… I also wouldn't bet against him in the big bike races either…… he's quality. Anyway, he had a couple of bites at Faragher, erm I mean Farquhar, but never nailed him for another couple of miles…… and he started to disappear into the distance…… I started to lose touch on the run to Ballaugh, where their superior speed told, and they started to drag away from me……… had the bike airborne as usual at Ballacrye, and was quite smooth at Quarry Bends, and after passing the Kink at the end of the Sulby Straight, saw Farquhar peeling into the bridge, still not too far ahead then…… the bike was hopping all over the place after the Ginger Hall, and I was struggling to hold on to it again…… could feel the dreaded arm pump rearing its f*cking ugly head and I was slightly worried…………………… The gloves were also not helping as the were a lot looser than my new pair, and every time I throttled off I used the handle bar to drag them back up me fingers again…… all in all not good. Got into Ramsey, wobbled round up to the hairpin, and after rounding it saw a red Yamaha behind me…… thought at first it was Jason Griffiths, but it turned out to be John McGuinness, and he got me going into the Gooseneck, he was 'on it' for sure……… Heading up to Gutheries, Martin Finnegan, also passed me on his Junior Bike…… he was flying too…… and proceeded to piss off into the distance…… There were loads of flies out and I was also still struggling with my arms, and when I pulled the last of my tear off visors off, I knew I'd be pulling into the pits…… tried to carry on last year, and it got to the stage I had to pull in at Sulby to get my visor cleaned……… nobody else passed me before I got into the pits, and was glad to get in for a rest if the truth beknown…… recorded a lap at 113.88mph……… took our time and made a couple of suspension changes, The Wad stretched my fingers back for me to try and relief some of the pressure in my wrists etc, and it did make them feel a tad better……… Changed me helmet to my spare which was furnished with another two tear offs, then I went back out……… was gonna try and feel what the bike was doing this lap, to see if we were going the correct way with the suspension alterations, but was soon mixed up in a bit of traffic…… there seemed to be quite a few 125cc and 400cc machines out,so it was not to much bother getting past them…… saw some bloke on a bigger bike as I approached the Crosby Corner where Chris was standing, and after beeping the horn quite a few times, had to go underneath this geezer at the fast left hander, the bike was popping off the limiter as it went on the side of the tyre………… oooooooo……
Carried on regardless and had a pretty uneventful lap and wasn't passed by anybody, but still was making a few mistakes and wasn't really putting into practise, what I had learnt at last years MGP…… made a few schoolboy errors, and was slower at corners where I'm not normally, and just wanted to get the lap over with…… and pulled in again…… lap time 112.00mph. Told the boys that I didn't feel the bike was better and we had gone backwards, so Stuey put the settings back to where they had been previously and then went two clicks in the opposite direction……… it was at this point that we noticed the steering damper was seeping oil…… Christ Almighty…… I'm going through a few seals this week. Not much we could do about that so notched it up another click to compensate…… will have to replace the bastard tomorrow. Decided to go back out in the next session for one more lap, and that would mean I would have qualified both in the number of laps, and the qualifying time which was sommat like 105mph……… so, well in there…… my slowest lap so far had been my last one.
Went to DH Autos to buy some more gloves, but I didn't want to rush into buying some and they not work well either, and the 'feel' from most of them were not very good, so will have to go back another time to try them again…… so opted for my new ones I already had……… Was a bit concerned about my tyre wear, as they had already done 15 laps of Jurby South Road last week and 4 laps of the TT course so far, so to be pushing it harder, I wanted new rubber…… so just wanted to go out and put my last qualifying lap in……… There was a bit of a delay, because of an Ambulance on the course for other reasons than racing in the Ramsey area, which benefited me, as it was all extra rest…… soon was away again though and I started off on my own and had to go down the coned off area, which was pretty tight, and haired off down Bray Hill after some newcomer on a green bike…… Into the QB, Ian Armstrong out braked me on his big 1000cc bike,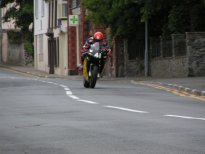 he was obviously on a flying lap, and as his tyres were warm, he got his power down earlier and dragged away…… I got past the Newcomer and headed off after him…… all the way to Ballacraine is big bike territory though, so I never made any gap up on him…… was nice and smooth through the Glen Helen section…… was telling myself to put into practise the things I had learnt in last years MGP, like standing on the pegs and getting the power down earlier and concentrating on what I was doing more…… and it felt really nice and steady, and mainly smooth…… this lap round I wasn't suffering at all from arm pump, which made things also a lot easier, and was thinking I could stay out all night now…… have to put that down to having a rest and a stretch…… that's all very well, but you can't do it during a race……mmmmmmmmmmmmm.
Got up on the Mountain and had to tear off my disposable visor as I got splatted by a big beastie, right in the middle of me line of view, so any thought of another lap was gone…… although I was well tempted to go for it if there was any time…… Lougher passed me on his Fireblade on the run down to the Verandah, and I tailed him for………………… not very long!……… kept him in sight though all the way to the Creg Ny Baa…… nearly out braked meself whilst watching what he was doing a couple of times, and after each time I done that I was over cautious at the next corner…… have to start watching meself rather than anybody that overtakes me…… but I'm keen to learn of these fast boys and watch how they do it…… nobody else passed me and I was happy enough with the lap and as I approached the line, the chequered flag still wasn't out, and I was hellish tempted to go for another lap, but I knew I'd suffer with vision problems because of the flies, so I never bothered, and pulled in…… was well pleased to find that the lap was my fastest so far at 19mins 37.8 which was 115.32mph and it put me third quickest again , behind Archibald 118.08mph, and Richard Britton 116.03mph……… so happy enough with that…… there's still loads of time I can me making up if I start doing things right……… but the arm pump problem is still a worry……
Dashed off for a shower before the rush and Stuey and Willy started to take the bike to pieces again…… wash the flies and muck off, put new tyres on it, new steering damper, clean the brakes pads up and generally check it over……… ready for another go at it tomorrow………
So tune in for another very exciting, hopefully upping the pace again episode…………………………………