First Practise
Got ourselves in the Paddock on Tuesday night, and surprisingly there were already a few there, and there was more arriving…… Stuey had brought his truck up and Eamon from Container Rentals Ltd (07624 493234) had dropped the 20ft x 8ft shipping container off for us to use as a 'garage' instead of lashing the awning up…… Cheers Eamon…… he rented the other 'Hospitality' container to Ryan Farquhar and that's also parked next to us…… Its definitely the way to go…… so if it pisses down, we wouldn't get wet, and the rain wouldn't run through the middle of it….. It would also help keep stuff secure, as the Laxey Pole Cat, Nige Beattie had a set of wheels and a stand pinched at the North West 200…… so we were pretty much ready in that respect. Left the bike the same from last weeks excursions at Jurby South Road races…… give it a go, and we'll see what its like.
Been trying to get a 1000 Production ride sorted, but not having that much luck, so it looks like I will be sitting in the hedge watching come race day on Monday…… bit of a twat that…… but what can you do.
Tipped up at the paddock in plenty of time, the forecast had been shite, but it was scorching…… hooray!…… I had been ready to stick intermediate tyres on, but not now, which was handy…… not too much fun racing round the IOM when its wet…… the boys had the bike fettled and lined up at scrutineering in the first bunch of bikes…… In a way, its handy just having the one to concentrate on…… I got me helmet furnished with tear off visors etc and just generally took it easy……… The roads soon shut and when I got to the line they had me in the third pairing away, with Anstey and Archibald at the front. Jumped on the bike and I was soon tearing off down Glencrutchery Road…… the geezer who started with me got a better start, but I got past him well before St Ninians traffic lights…… hit the bottom of Bray Hill flat out in top, and caught one of the blokes that started ahead at the QB…… passed him and was tailing the other one into Braddan Bridge, got past him as well into Snugborough…… the sun was pretty strong up the Ballahutchin and I went down a gear and rolled the throttle a tad at Ballagarey Traffic Lights…… the sun was that strong here, I never saw the corner till pretty late…… took the corner into Crosby flat out in top, and had it bouncing off the rev limiter…… I had standard gearing on, so might try going one tooth down on the back because of this, don't know if the bike is going to pull it though, but we can always change it back…… I had been watching Shaun Harris's on board lap from last year's Production 600 Race which he went on to win, and he was holding a higher gear than me through some places, so I thought that I'd give it a go…… and steady enough it was too…… on the approach to Ballacraine I saw the two TAS Suzuki boys tipping into the corner and a huge smile appeared on me mush…… got a bit carried away here though, and although I never felt that I was going two fast, I got the corner slightly wrong…… had me knee scraping the tarmac, and the front slipped…… Then gripped again and I was mighty close to the hay bales…… told myself to 'f*ckin calm down'…… and set about after Anstey and Archibald……… by the time I got to Glen Helen I was on their arses…… they were only going steady, but so was I ……… rounded Glen Helen as sweet as a nut, using the whole of the road, and they never so I nearly passed them around the outside…… throttled off and tucked in behind…… it turned out that the pace was a tad slower than I wanted to go, so even though I knew it would be a good idea to follow them around and try and learn sommat, it was a bit early in the week, and we were all out re learning the course anyway…… and I must confess up until this point, they're lines were different to mine…… maybe when they're pushing harder that will alter…… had a couple of bites at Anstey, but couldn't safely pass, until I out braked him into the 13th Milestone, and started tailing Archie…… the new tarmac at Westwood is really good and I had the Bullock Honda well cranked over…… tailed Archie through Kirk Michael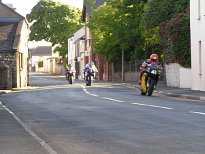 and I knew Bruce was tailing me…… never thought that I'd be in a TAS Suzuki sandwich…… still, this is what its all about…… on the approach to Ballaugh, noticed that my bike was quicker than Archie's, which is always handy innit…… and I out braked him into the bridge to get mesen a clear road…… cool…… still was only going steady, and I could have upped it, but it was only the first lap…… Kept my head down, and I was keen to see how the bike handled after the Ginger Hall, plenty of leaves on the road under the trees, which was a slight worry, didn't know how slippy it was going to be…… the bike wasn't handling the best as it turned out, and I had a bit of a problem with my new gloves slipping down me right hand…… they are really tight round the wrist and my leathers were pushing them down, which is not…… well, erm…… handy. When I got to Ramsey Hairpin I had a look behind and Archibald was on my arse…… I took it really steady around the waterworks and was probably holding him up……… the sun was strong again rounding tower bends, and I was quite smooth rounding the Gooseneck…… I was pretty cautious and rolled the throttle a couple of times in places that I usually don't but, again, it was only the first lap…… Archibald drove around my outside at the Mountain Box, so I followed him onto the Verandah…… down to the Bungalow Bridge, was slipstreaming him and could have drove back past, but wanted to see how he took the approach to the Bungalow, and it was a nice line for sure…… will be trying that again…… Carried on following him, had to be cautious when I saw water spray coming off his back wheel at Kate's Cottage…… the road was well wet here…… exiting the Creg Ny Baa, he had a look behind and I was up his chuff……… he was probably thinking 'who the f*ck is No 41'……… I had a look behind me and Bruce was up my chuff……… so still in the Suzuki sandwich…… didn't like Archies line around Cronk Ny Mona…… he goes wider than I like to, as the way I see it, if you make a mistake you still have some road to correct it, but he's been round there loads more times than me so he's probably got it sussed…… he pulled some on me at the Nook as I was extra steady, and wobbled round Governors Bridge like you wouldn't believe, than I did a schoolboy error when I used the front brake on the slippy bit, but got away with it all the same…… I'm still shite coming out of Governors and lost a bit of ground but was back on his tail crossing the line for the next lap…… the gloves were still causing a problem and I was gasping for a drink…… there was bikes coming out of pit lane and we both had to roll the throttle and avoid one of them, then we passed some geezer halfway down Bray Hill…… there started to be traffic everywhere, and its got to be said, Archibald was carving through it better than me…… caught somebody on a 125 at Union Mills and he nearly had me in the Post Office while I was going round him…… lost ground and only caught back up because of more traffic at Greeba Bridge, had to throttle off rounding Gorseleigh, but was back on his tail into Ballacraine on the anchors…… tailed him all the way round the Glen Helen section…… trying to hold a higher gear round some of the corners to stop the engine from screaming…… took Glen Helen absolutely sweetly again, and had me knee down, and was tail grabbing him onto the Cronk-y-voddy straight…… slipstreamed him all the way down and passed him just before the end and took it absolutely flat out in top……… sweeeeeeeeeeet.
Was starting to suffer from a bit of arm pump, and didn't feel like the bike was at its best, but put that more down to me than of it…… passing the pub in Kirk Michael, they were all sunbathing and drinking and I was as dry as a f*ck without foreplay……… lucky barstewards…… Had a few more backmarkers to content with and had a bit of a wobble on at Rhencullen 2…… instead of the bike popping its usual wheelie, it was airborne and landed with a wobble…… went past another 125 like he was standing still and got some 'good air' at Ballaugh Bridge……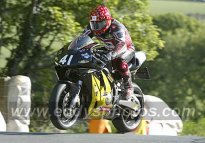 I saw Archibald's shadow to my right on the way down to Ballacrye, so I rolled the throttle and let him through, was right up his chuff through Quarry Bends, and slipstreamed past him down the Sulby Straight…… Anstey, however, had been getting the tow off the pair of us and he shot past us both, so I tucked in behind him, then Archie got me on the brakes into Sulby Bridge……… Lost a bit of Ground on the run to Ramsey, didn't feel comfortable and me arms were getting more pumped all the time, the bloody gloves didn't help…… had a bit of a slide in parliament square, then kept it steady on the mountain climb…… could have gone quicker in some places, but I knocked it off a tad…… they had pulled a few yards on me, but it looked like Anstey was pulling away from Archie more than Archie was from me…… didn't really get the chance to follow Anstey, which I would have liked to have done, there was more traffic up on the mountain, which lost me a bit of time, but it's the same for everybody, and it all depends where you catch them…… on the run down the mountain, passed Madsen-Mygdal on his 400, and caught sight of someone on the wall at Hillberry waving like hell at me…… don't know who it was though…… peeled into Hillberry and went round Cronk ny Mona quite well, and off down to the Nook which I was again too slow at, and wobbled round Governors like usual…… will have to get this better soon…… crossed the line and pulled in……… was met by Chris, Stuey, Wad, Willy and Martin…… Chris informed me that I had done 113mph on my first lap and nearly 115mph on my second circuit, which was pretty satisfactory…… would have been a lot quicker had the traffic been less….. but I'd better get used to it, starting at number forty friggin one!……
Was gonna go out in the next session, and set about altering the suspension settings, but whilst doing it noticed that there was oil pissing out of the left hand fork leg…… bollocks!…… that was that then…… Night over.
Stuey took the bike back to the container and set about taking it to pieces with the Wad…… will have to get that fettled with new seals…… turns out that the oil levels had been wrong anyway…… Jesus!…… hope it will handle better after its sorted…… Turned out that I had posted the third fastest time in the production 600 class with 114.67mph, Anstey quickest at 115.71mph then Archibald at 114.92mph…… so in good company there…… happy enough with that so far.
So, that was that…… got showered and changed and out on the lash……
Tune in for another very exciting episode soon………………………………