Friday 11th June
600 Production TT Race Day
Never finished getting the bikes ready till about midnight and left Stuey in the container fettling the forks to his own bike for his debut at the Steam Packet races on Saturday……… I arrived at the paddock just after 8am…… Wad was there already, Willy soon followed and Stuey had spent the night in the truck……
Got the usual jobs done to the bike, and I decided to make a last minute suspension change to the front forks and went two clicks in on the compression damping…… I thought that the front end was too soft, so I wanted it stiffened up a bit………
You wouldn't believe it, after all the seriously good weather we've been having the heavens opened and it pissed it down…… bollocks…… that's just typical…… My only race day, and it rains……… it stopped and started then stopped again and the sun came out…… too late though, as it would be wet under the trees…… had Supercorsa's fitted to the bike, was gonna go for intermediates, but decided to leave the Corsa's on…
I wasn't too impressed with the organisers…… as they had moved Ray Porter up to the spare starting slot at number 7, which I thought that I was favourite to get……… I had been 4th fastest on the Production 600 leader board with 117.52mph, which funnily enough was quicker than Ray had managed on his Proddy bike…… but he had put a lap of 119.5mph in on his Junior bike in Wednesday's Junior race, which is the lap time that they had taken into consideration, and not his production lap times, which had been slower than mine all week…… To rub salt into the wound, they also had offered him a better starting slot in the Junior Race (he was starting at No 30)…… and he had refused it!…… so in their wisdom, the organisers not only took the wrong lap time into consideration, they had offered him another better starting slot…… It doesn't seem like the locals get the first crack of the whip…… pissed me off for sure, I would definitely get a clear run starting at No 7…… all the fast boys were in the first six…… not much chance of them holding me up, but starting from No 41, I was expecting a bit of traffic……
I had started the week with two targets……… first one was to do 116mph on the production 600 bike, which I thought would be pretty good…… the next was to finish in the top 15……… but the way practise had gone, I had done the former and was pretty optimistic about the latter……… was even hoping for a top ten, which would be sommat else…… but top 15 was what I wanted before I had come, so I was sticking to that………
As I was starting at No 41, there wasn't that much of a rush and I was still walking to the start line when the first bikes took off down the road, wished a few people good luck, and Paul Corrin, my Bullock team mate for the day, who was starting at 10 seconds ahead of me on the No 40 plate…… he said if he saw my front wheel he'll let me past, no bother at all…… cheers mate……… Got to the line, and was waiting for the green light, but there wasn't one, there was a bloke with a flag…… Doh!…… thundered off down Bray Hill…… couldn't have gone any faster, and was wary first time round the QB……… did Braddan okay and through Union Mills and up the Ballahutchin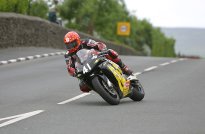 I could see Paul who had started ahead, went down a gear at Ballagarey, something that I hadn't really done all week, but thought that I needed to keep the revs up to around the 14,000 mark…… flat out through Crosby and could see Paul at the top of the hill, and counted to see what the gap was…… 5 seconds…… good…… I had made up half the time…… through the Greeba section I was faster and into the Greeba Bridge, I was pretty much on Paul's tail and managed to go underneath him at Gorseleigh, on the run down to Ballacraine…… It was pretty damp, but I kept it nailed……There were oil flags out at Ballacraine, and it was wet, so had to go really wide and tip toe round…… Stuey's Dad, John, swung out my board and it said 'Good Luck'…… it was damp in the Glen Helen section, and the new tarmac at laurel Bank was well slippy…… had the first of a few slides in this section and one at Glen Helen itself, where the back end stepped out, but I had a smooth line and it wasn't that much of a problem…… up on the Cronky Straight, saw two bikes at the end of it, and knew the first one would be Maria Costello……… did okay till I got to the bottom of Begarrow, where I had a bit of a wobble, and into the 13th Milestone I was on their tails…… Maria got past the geezer in front before Douglas Road Corner, but I got stuck behind, managed to do him halfway through the village though…… chased after Maria, and was on her arse by Rhencullen, had a couple of bites at her, but her being lighter than me, gave her a tad more acceleration, saw her foot slip off the peg at Bishopscourt, and she rolled it, which was quite scary for me that close behind her, and I had to roll the throttle a few more times as she had the racing line and I didn't want her, or me to end up in the hedge…… thought she might have saw my front wheel on the exit of Alpine Corner, but obviously not, as she never let me through, so I knew it was gonna have to be on the anchors into Ballaugh Bridge…… tried to go up her inside, but she looked to be changing her line, so I had to then go around the outside, then she stood the bike up, which put me even wider, and I hit the bridge way too fast and not in the line I wanted to be in…… I had no option to straighten the bike otherwise I'd be off on the landing…… it jumped way too far for me, and it landed on the front wheel……… got away with it thankfully, not the best manoeuvre I've done all week, but I had to get past, as I had already lost time there…… had a good jump at Ballacrye, tried to stay tucked in, and she certainly flew through the air…… the Bullock Honda been landing well off the jumps all week…… slippy surface flags out all over the place even through Quarry Bends…… Simon swung out my pit board at Sulby Bridge and it just said L1 (Lap 1)…… Caught Alan 'Bud' Jackson at Kerromoar and couldn't get past him till the run to Schoolhouse Corner, where I got better drive after the jump at the builders centre……… but another few seconds lost there…… bollocks…… was pretty steady after the hairpin, keeping my eye out for damp bits, but it seemed relatively clear through here…… was in the wrong line once or twice, which didn't help my drive, and I felt that the bike was slightly under geared, as with the strong wind that was blowing, it was harder to pull the gearing that I had fitted, another tooth on the back sprocket might have helped matters……… there were oil flags out at the Brandywell, and loads of it at Windy Corner…… Jesus what has happened here!………… that slowed me as well…… Josser swung out my pit board on the run to the 33rd, and it said P4……… What!!!……… 4th place…… Christ Almighty!……… was wishing I had got the start number 7 for sure now…… I had been losing shed loads of time and I was still 4th…… amazing……… had a steady enough run down the mountain, and flew through the grandstand to start the second lap…… shite again at the QB, but slightly better at Braddan Bridge this time round…… the bike handling better this time out on it, the compression damping adjustments, making a difference……… caught sight of Davy Morgan who had started at No 38 going up the Ballahutchin, which was handy, as he is one of my biggest rivals for this years Manx Grand Prix, and I had taken at least 20 seconds out of him already……… Got a pit board, well a piece of A4 paper from the duty copper at Glenlough campsite…… all it said was 'P5'……… good one…… thanks to whoever it was…… was gaining on Davy in some places and losing it in others when I made a few mistakes and I knew I should have been better…… it was still damp at Greeba and there was a couple waving like made at me on the inside of the bridge (no idea there either) and rounding Gorseleigh the second time I had the mother of all slides on the damp ground…… the back end slipped right round which put the Willies up me for a bit and I lost a bit of ground on Davy, reeled quite bit of it back in though, but again lost ground when I was trying too hard…… hit a false neutral into the slippy Laurel Bank section which was not good, it was well damp and I had to grab more front brake than I would have liked…… bollocks again…… was steady through Glen Helen, and tried to make up some ground, and was a little wide at the Total petrol station in Kirk Michael……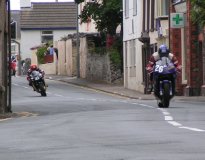 couldn't let go of the throttle to adjust my grip and I mistakenly held it wide open…… didn't know it at the time, but I had two friends videoing here and I put the shits right up em……… Got Simons pit board at Sulby and it said 'P7'……… lost two places somewhere, but still, that would do me…… saw Davy pass somebody in the distance and I got past through the Ginger hall section…… thought that I was braking a tad early and could have left it a bit later, but at least it stopped me from overshooting…… Up on the mountain a second time, could see Davy still ahead, and I was gaining on him all the way over it…… think I was too cautious where the oil and water flags were out…… knew that I could have attacked them more…… There weren't many flies out today, and I still hadn't used any of the tear off visors that I had fitted, so that was a job less to do in the pits…… rounding Cronk Ny Mona, caught Davy right up and was up his chuff on the brakes into Signpost Corner…… he had a look behind him, and saw me…… then he stuck the fingers up…… Har Har…… again, I lost ground out of Governors dip, but pulled alongside him into the stop box…… I was in pit number 14 (cheers Peter) so it was quite near the top, stopped the bike and the boys did their jobs…… Was informed beforehand by the lads that it would take 22 seconds to give the bike 10 litres of fuel…… told Stuey I didn't want a visor, got a drink, then Stuey took the decision to stop fuelling after 20 seconds (he had seen top teams take 16 secs)…… so after 20 secs I was off down Bray Hill again…… Great stop from the lads…… went like clockwork…… Davy had got out before me and had pulled back at least 5-6 seconds on me…… I was pretty good out of Braddan Bridge and Union Mills and was gaining on him out of Crosby…… had a good clear run to Ballacraine and was reeling him in….. This time round though, rolled the throttle at Gorseleigh, didn't want a slide like last time, and this time round could see how wet it was…… Jesus!…… tip toed round Ballacraine again, and into Laurel Bank I was on his tail again……… I'm faster round Glen Helen so went around his outside so I had the inside line for Sarah's Cottage and got past him at this point…… yee har…… was gonna give him the fingers back, but needed two hands on the bars for this section…… down the Cronky Straight I was flat out and Davy pulled alongside me and gave me the thumbs up…… eejit…… his bike's faster then, He had the speed to pass me, but he tucked back in behind…… was hoping that he was gonna because I was taking the end flat out in top…… still felt that I could have been doing better, and rolled the throttle a few times where I shouldn't have been doing…… think I went around the outside of Johnny Barton on his Ducati 748 at Westwood near Kirk Michael, nice clean move that and he was a gent, and never tried to have a go back at me, think I could have done better at Rhencullen, but was steady enough all the way to Ballaugh where I crossed the bridge lots better than I did on the first lap……… had the bike well airborne at Ballacrye, and tried to stay tucked in, and managed it better than before…… Caught Simon's pit board at Sulby and it still said 'P7' then I went down to first gear by mistake and the arse end fish tailed, and I went wide, Davy had been on my tail and he went up the inside of me turned round and gave me the two fingered salute again…… Twat!……Watched him through the Milntown section, where I think is one my weakest points, but decided that I can hold my own, as I could have gone quicker if I could have got past him…… managed to get him on the straight before Schoolhouse Corner, and used the layby on the exit…… thought he might have a go at me on the brakes, as I felt I braked early again, but no, he never even showed me a wheel…… steady enough up through Ramsey and tried to do better at the Waterworks, and I was slightly…… pretty crap round the Gooseneck and was in completely the wrong line at the next two left handers…… wasn't concentrating like I should have been as I knew Davy was on me arse…… told mesen off, and tried harder…… was halfway down the Mountain Mile before I change into 6th gear and was getting buffeted about a bit……… gearing definitely wrong, but its what I had been using all week, and couldn't change it now anyway…… still know I can take the Mountain Box, The Verandah and Brandywell better than I am doing, but will get that sorted at the MGP…… passed me good ol mate Craig 'Roll the throttle' Atkinson (Ha Ha) and gave him a toot of the horn on the way past…… big smile appeared on me face when he came into view, as he had started two and a half minutes ahead of me…… passing Josser at Windy Corner he swung out 'P7' +5 so I just said to meself, 'Bring it home'……… was steady away, and didn't make that many mistakes, but could have ridden slightly harder, but didn't want to make a huge mistake or fall off this close to the finish…… rounded Cronk Ny Mona pretty handy and knew Martin Bullock would be in his Mum's garden at Signpost…… so as I rounded that, I was beeping the horn, then the crowd started waving……… steady down through the Nook, short shifted the gears through Governors Dip and was flat out crossing the line……… Finished!…… thank Christ for that……!! Hadn't finished either of the last two races I have done on the Mountain Course (Junior & Senior MGP last year)…… Thought that I had got 7th place, and was pretty disappointed to be told I was 11th…… Was wondering how that had happened…… Would have been a lot happier had I not known what position I was in and be told that I was 11th at the end, but after seeing 7th on my pit board all the way round on my last lap, was left a bit deflated, even though I had finished ahead of the likes of last years winner, Shaun Harris, top riders Richard Britton and Martin Finnegan…… I reckon that I lost about 20 seconds getting blocked with the traffic over the 3 laps, which I think is a conservative estimate, and I ended up only 15 seconds away from 6th place…… So starting from a better slot would definitely have benefited me…… too late now.
Still, got to think of the bigger picture…… top 15 I had set out to get and 116mph lap, and I had achieved both…… would have bitten your arm off if you had offered me 11th before the race…… The best thing about it though was that I got a SILVER replica, which are like Hen's teeth………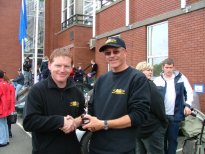 and I had averaged 115.13mph for the 3 laps (Lap1 – 115.95mph) (Lap 2 – 116.27 mph) (Lap 3 – 113.23mph Including the pitstop)…… so happy day's…… and it was all good practise for the Manx Grand Prix…… and was also in the prize money…… 200 sovs!!……… pay for the tyres I had used if nowt else.
Got back to the paddock and there was some serious fettling done to the bikes for tomorrows Steam Packet Races, down on the Billown Circuit…… Emptied the Container Rentals Container and packed the van up……
Was left wondering how quick I could have gone if I had a been on a Superbike…… lots of last years MGP boys had gone fast this week and upped their personal bests, but I was only on the Proddy 600, so it was harder work for me to do it, but I'm sure if I'd ridden a big bike the way I had the 600, I'd have cracked 120mph, no bother at all…… I can say that now, though can't I …… still a pub racer after all these years…… Ho Ho
So, tune in for the next very exciting, money winning, scalp taking episode of…………………………………………………… Tommy Clucas Racing