Saturday 12th June

Arrived in the paddock before 10-00am in glorious sunshine and met me trusty TT spanner man Stuey Bainborough who was already there…… Stuey making his debut on the Billown circuit, and to top all that it was his 25th birthday as well…… Happy Birthday you big Galoooo……
Practise wasn't scheduled till 1-05pm, and knowing the Southern Club, it would probably be bang on…… Had to sign on, go to the briefing, get your kit checked etc etc…… My Bullock team mate Juan Kinnish tipped up, looking a bit worse for wear after a night on the piss, with his Bullock GSXR1000 Suzuki which he was letting me ride and was spannering for me today…… cool……… also had me two other TT spanner men, The Wad, and Willy helping out too…… and Team PC Racing Manager Chris would be boarding for me at Castletown Corner…… also had me Sulby board man, Simon and his Dad boarding for me at Ballabeg…… which was well handy. Then Pete Corser arrived to lend a hand as well, one of the Martin Bullock team who will be building my Manx Grand Prix bikes…… so had good help today and no mistake.
Had 4 practise sessions, two on each bike…… this was going to be the first time I had sat on either the Bullock Supersport Honda CBR600RR or Juan's Superstock Suzuki Gixer Thou…… There was only three races scheduled today and the first was going to be the 600/250 Race, followed by the 125/400, and the last race of the day would be the 1000cc Open Race…… in between all of these were going to be a classic parade.
Was soon out on the road, and was behind Guy Martin in the first of the practise sessions……… as my tyres were cold, was being a bit cautious, saw Guy shoot off, but caught him up at the Iron Gate…… after the Bridge was wondering what Guy was doing ahead of me…… he was in the wrong line and going way too fast to make the corner…… thought to myself 'Shit, this is not good'…… he tried to make the corner but headed for the wall…… thank God he took the option of picking the bike up and he went through 'Joey's Gate' and into the ploughed field…… (the club opens the gate just in case sommat like this happens)…… what a numpty…… the first lap of practise…… as I passed him on the proper side of the wall, I could see that he was still upright and thankfully had saved it…… lucky boy…… what a rookie mistake…… so carried on with a clear road in front of me…… Was pretty annoyed with myself after having a hellish tank slapper after the jump down the Billown Dip…… I was mighty close to the pavement when it stopped slapping, and I was saying to myself, 'You fucking idiot, you haven't checked the steering damper!'…… (although I had checked everything else on the bike and added all my TT suspension settings…… even had the forks from the Production bike fitted to it as I was more familiar with them)……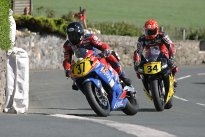 The Bullock Production Honda had behaved admirably over the jumps on the TT course, but this nearly had me off first time out on it……… so settled down after that and just re-acquainted myself with the course…… the gearing I had gone with was definitely wrong and I had to roll the throttle on all the fast straights, but it was the first time I had been on a Honda around here so it was all guess work, trial and error…… wasn't passed by anyone and got the chequered flag after about 5 laps…… Got in and told the boys that I need to go down another 2 teeth on the back sprocket, the gear lever was too high and the bike was jumping about all over the place (most probably down to the damper)……so he and the boys set about doing putting it right…… Went out on Juan's big Suzuki…… he had left all the settings the same as it had been when he used it at Jurby Road……… It was way softer than the Honda, and out I went and wobbled round on it…… pulled in at Cross Four Ways and adjusted the steering damper on this bike too, as I felt that it too was shaking its head too much…… felt like I was rolling the throttle everywhere on this bike and the foot pegs and gear lever weren't right for me……the front wheel kept pawing the air, as it had so much power compared to the 600, and thought that I might be going backwards on it, but Chris eased my worried head when he said that I had lapped 2mins 29 seconds on it, and 2mins 34 on the 600……… mmmmmmmm……… that was a surprise…… I'll give it another go then…… Next practise I went out on the 600 again, and for the whole of the practise I was dicing with TT winner, Ryan Farquhar on his ZX6R…… I actually reeled him in and passed him, only for him to come back past me on the brakes into Castletown corner, and we diced for 3 or 4 laps, and it was well good fun…… we both gave each other the thumbs up when we pulled in………I didn't really know him that well, but we had been parked next to him for the TT fortnight, and found him to be a really top bloke…… a real gent.
Felt that the gearing was still wrong and we had to change it again, wasn't too happy with what we had opted for as I felt we needed more punch out of the hairpin corners, but with the gearing that we had for the bike, we went with something that wouldn't over rev the bike…… after that went out on the big Suzy and did another 5 qualifying laps and felt more comfortable this time out on it…… Told Juan that the front forks were still bottoming out, mainly into Castletown Corner, so he altered the compression damping to try and cure it. Also felt that I was losing shed loads of time trying to keep the front wheel down, as every time it did that, I had to shut the throttle, therefore losing drive…… and time
Was told that I had qualified on pole for the 600 race which I was well happy about, and 4th in the Superbike Race…… was well happy with that too, but later found out that Ryan had gone fractionally quicker than me in the 600's and I had qualified 2nd……… still, I was happy with a front row start with people the like of Lougher, Palmer, Hunt ,Parrett, Martin, Carswell etc… behind me…… also found out that I was 6th on the grid for the Superbikes…… so a second row start would do as well, first time on the big Suzuki……
Lined up for race 1 on the Bullock Supersport 600 Honda (the trusty old Production Honda relegated to the back of the van), in the middle of the front row, Ryan gave me the thumbs up and I did it back, did the same to Guy Martin, and when the lights turned green we were offski……… initially got a good start, but the gearing was a tad tall, and got passed by a couple but still made it into the corner in 3rd spot…… could have been 2nd but Guy came underneath me to go 2nd, with Farquhar leading, haired off down to the Iron Gate, and coming out of Ballabeg Hairpin the bike bogged down (like it would do every lap) tried to slip the clutch like you would do on a two stroke, but the only trouble here was that I've never raced a two stroke!!…… Lougher passed me on his 250…… Bollocks…… followed Lougher out round the back section and he was holding me up slightly, my bike being faster than his, but he's good to follow…… was tailing him round Cross Four Ways and on the run down to Great Meadow went past him and back into 3rd spot…… then I got back on Guy Martin's tail, and we had a right ding dong…… I was passing him and he was passing me back mainly out of shape on the brakes at either Cross Four Ways or Castletown Corner…… after the 3rd or 4th lap saw that Ryan was pulling a gap, the bike was still bogging down so bad out of the hairpins, while Guy's bike went wheelieing off down the road…… I felt that I was losing at least a second a lap because of this…… was on Guy's tail into Ballawhetstone and was definitely quicker than him out on the bumpy bits, and I was losing touch with Farquhar, but it was gonna take sommat extra special to catch him, so had to get past Guy, try and break his tow and give it a go…… went past him going through Billown Dip…… a right ballsy move, it didn't look like he was gonna give me the room, so I made some, but could have done with more, because on the flat out left hander up the hill on the run to Cross Four Ways I was that close to the wall, I twatted the overgrown Ivy hanging off it with my helmet…… Wasn't too impressed with myself for that schoolboy error either…… Christ!, that was close…… I must have showered him with leaves and shit and gave him a bit of a fright, and there was green juice oozing down my visor…… he got me back on the brakes into Cross Four Ways…… while I was wiping it all off, and into Church bends, his back wheel was way off the deck on the brakes and I was worried he was going to lose it, but he didn't, and on the exit, I got better drive and pulled alongside and we stayed that way all the way down to Stadium Corner……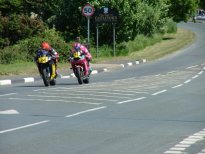 I let him back in and we went for it again…… caught up with a back marker at Ballakeighan, and Guy nailed him just on the corner, I only just squeezed through too, thought he was gonna tip in on top of me, but he sat up when he saw my front wheel…… next time around at Ballabeg the bike bogged and Guy gained a few yards, but I reeled him back in and I went underneath him at Williams bend…… felt something touch my leg and thought that it was his front wheel, but it turned out to be his handlebar, another ballsy move and no mistake…… I was worried he might have had a moment, so when I got to Cross Four Ways, I turned round to see if he was still there…… he was…… I gave him the thumbs up, and he gave me it back, so we carried on having our ding dong…… he passed me on the brakes into Castletown Corner and I thought that this is where he'll be having a go at me at the end…… crossing the line for the last lap, we were practically side by side again, but I let him in at Ballakeighan…… tailed him out round the back, and into Stadium we were side by side again, but this time he had to back off and I was at Castletown Corner first…… I kept a really tight line, but Guy tried to come underneath me, and he was pretty much out of shape, was gonna wipe his nose but I really thought that he would have us both down, so let him past…… he had to fifty pence piece the corner and when I tried to get the power down the bike bogged again and he just got to the line before me…… Bollocks…… still, we were on the podium. Guy stopped and we shook hands and he was beaming…… he obviously had enjoyed our little battle, and he just nabbed £200 off me on the last corner…… the twat. (£400 for 2nd and £200 for 3rd)…… was ushered into the winners enclosure and got interviewed and then lots of photo's taken…… turned out that Ryan had nabbed the lap and race record, while both me and Guy were also well inside the race record……… so not too shabby so far…… and I think it was the first time I had beaten Big 'H' in a road race…… so a mighty scalp for me that. I had recorded a personal best lap on the 600 which was 2'28.16 (103.27mph) which was the second fastest of the race, Ryan's record now stands at 2'27.13 (103.99mph). Martin Bullock also told me that it was his first podium at the Billown Circuit, so smiley faces all round. Did feel though that if the bike would have picked up out of the corners I could have run at the pointy end with Ryan…… have to try and get that sorted for the Southern 100.
Had a bit of a break, but was nearly caught on the hop when the race was half an hour early…… so the boys had the big Bullock Suzuki ready and I lined up on my second row grid position, had the warm up lap and we were soon off…… an average start had me 7th at the first corner, Chris Palmer had got a flier from the row behind me, had to line up at Ballakeighan where we all filtered through, and I'm sure Big 'H' showed me his front wheel, but I tipped in anyway…… felt that I could have gone into the corner quicker, but probably everybody else felt the same…… lost quite a bit of ground on the front guys but reeled some of it back in and was on Gary Carswell's tail for the first lap…… Chris Palmer was next up but he was about 100 yards ahead of us…… tailed Gary and felt that I could be going quicker, and managed to get past him when he went slightly wide at Ballakeighan so that was him out of the way, so I set about chasing after Chris Palmer…… managed to reel him in and he was a right twat to pass…… his bike was quicker and every time I managed to get alongside him on the straights he out drove me……… every time I saw either pit board it said +0…… so I knew that there was at least one of the others on my tail…… we were both reeling in Farquhar, not because we were going any quicker, but because he had slowed…… managed to get by Chris on the brakes into Cross Four Ways and set about after Farquhar, was right up his chuff coming out of Church Bends, but his Superbike is faster than Juan's Superstock Suzuki so I never had a chance, but did manage to do him on the anchors into Castletown Corner…… yee harr…… up to 4th…… Lougher and Co at the front of the pack were long gone, so my battle was going to be to hold on to 4th place……… Ryan blasted back past me at the end of the long start/finish straight, his bike is soooo fast, so tucked in behind him…… wasn't really that bothered, I was just happy to be in the same ball park as him…… he was slower than me from Ballawhetstone to Cross Four Ways and knew his hand must be giving him some proper gip with trying to hold on to his Superbike…… every time it went into a bit of a wobble, I knew it would be hurting him…… felt that I could pass him though, and tried it at a couple of places but with no joy, the bike didn't have the legs on his, thought he might let me past when I showed him my front wheel, but being a racer, he was making me work for it…… showed him my front wheel again into Castletown Corner but he wiped my nose and off we went for another lap…… was still getting +0 on my pit boards, and Ryan must have seen them too and knew that there were a few of us behind him…… was up his chuff all the way round, and into Cross Four Ways on the 8th lap he held a really tight line to avoid me going underneath him, so I went wide, thinking on the exit he'll go wide and I'll come in on a tighter line…… exactly that happened, only that I was so far cranked over that when I fed the power in, the back end stepped out and highsided me big time…… and fired me over the handlebars……… ouch!…… I flew in the air and landed on my left heel and the base of me back/arse…… double ouch!!……… but got straight to my feet and waited for the others to go by then walked across the track to the pavement…… the Marshal's and Paramedics arrived from everywhere and got the bike off the road…… I just wanted to sit down and get me breath back…… so I did that up against a house wall……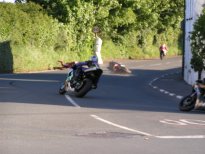 Took my boot off and had a look at my heel, and apart from being as sore as hell, knew I hadn't broken anything…… had this sort of injury a few times before, playing football and on bikes, and knew I would just have to grin and bear it……… the Paramedics wanted to take me to the ambulance and strap it up, but I said it would be pointless as I was going for a shower………The Marshals said that the bike was okay, apart from scuffed fairings, worn down engine casing, and a snapped foot peg…… the crash protector mushroom had done a fine job of saving the bike…… well handy that!…… told them that I would ride the bike back after the race had finished and they were good enough to let me do so, and I was followed in by both the inspection cars…… was getting loads of waves and claps from the crowd, which was huge as it happened, had chance to see it cos I was going so slow…… pulled in and went straight to the paddock…… gave the bike to the team and went and got my leathers off…… was soaked in sweat and just wanted to have a sit down…… Was pretty pissed off that I jumped off the bike, but as Mick Doohan always said, 'If your gonna race, your gonna crash'…… and it happens to the best of them…… and around the Southern 100 circuit, the best two places to do it are Cross Four Ways, or Castletown Corner…… so lucky in that respect…… Was pleased to find out that I had recorded the 4th fastest lap of the race with 2'24.73 (105.71mph) 3 seconds better than my previous best, which puts me something like 12th fastest on the all time fastest list on the Southern 100 Ton Up Club…… so well happy with that…… also know that I can go faster if I get a clear run, as I felt that I was rolling the throttle a bit more than I should have been, what with the traffic an that…… so was happy enough that I had set two personal bests on two bikes that I hadn't even sat on before today…… also had beaten, and was ahead of (before I jumped off) a lot of blokes (Hunt, Carswell, Parrett etc) that had recorded over 123mph at the TT Races…… all good stuff as my next event is probably gonna be the Southern 100 in July where I'll probably be back on the same two bikes…… Just got to rest my bruised bones and get back on it soon.
So, tune in for another very exciting, personal best getting, podium placing, sov winning episode of……………………………… Tommy Clucas Racing.