We were all ready for the 6-10pm start, the big 1000cc Bullock Suzuki was fettled and we had fitted new slick tyres to it, had the bike through scrutineering and in the holding area……… we also had the wheels with the wet tyres on, with tyre warmers on in case it pissed down……… the ped and trailer doing a sterling job of ferrying stuff to and fro…… the weather forecast wasn't that helpful, as we were told that there was a 'chance' of rain…… mmmmmmmmm……… so as it stood we would be going out on slicks. I was slightly worried more about my arm pump problem than I was of the weather…… I seem to suffer from it the first time I go out on the bike…… then after I've had a rest, it goes, and I'm alright for the rest of the day…… so I usually suffer in practise and then I'm okay for the races…… only trouble was that tonight, there was no practise scheduled and we were going to go straight into the race……… mmmmmmmmmmmm.
Wasn't long before we were called to the dummy grid and I was disappointed to find that I had been bumped onto the 3rd row……… In practise last night, there were a couple of riders that had gone quicker on their 1000's when I had gone out on the 600…… so that was a bit of a bummer…… but it was done now and a 3rd row start was what we had to go with.
Had the warm up lap behind the pace car and did my best to try and scrub the new slicks in by weaving from side to side, the bike was so much more responsive than the 600 Honda and felt as fast as f*ck by comparison, I really needed to have a practise on it…… the rain was still holding off, gave Chris the thumbs up on the way past, and then we assembled on the grid…… lights changed from red to green and we were offski…………… Saw Farquhar spin up the rear wheel and go sideways off the line, he could have easily have been flicked off it, but he managed to get it under control, thankfully for all those behind him……tried hard to keep the front wheel down and short shifted into second…… there was the usual bunching at the first corner, I could have piled into there a bit quicker but had to be cautious…… saw Parrett have a bite up the inside of Palmer, but couldn't make it stick and then he did manage to do him at the Iron Gate…… was tailing him meself by the time we got to Ballabeg hairpin, and I managed to out brake him into Cross Four Ways…… then set about those in front…… they already had a hundred odd yards, so got my head down and was actually making a little headway……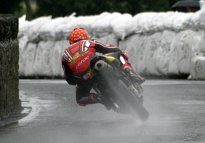 got to Cross Four Ways for the second time and there were waved yellows all over the place and after rounding it saw that Ian Lougher had obviously high sided where I did in the Steam Packet Races…… his bike was in the middle of the track and he was lying face down…… hoped that he was okay, the Marshal's were running in the road, so I stuck my hand in the air and slowed to a crawl…… just as I was passing the incident, Palmer, shot past me, which I was surprised about as I was under the impression that there was no overtaking on waved yellow flags, but as he told me afterwards there was no yellows after we passed Lougher and his bike…… felt pretty hard done by at the time, but was struggling to get a feel for the bike and was starting to feel the dreaded arm pump rear its ugly head already…… my lap time indicated a 2'27 and from then on I went totally backwards and it was no fun at all…… next couple of laps round, Chris had my pit board out and it said +0…… so I knew somebody was on my tail, was quite surprised that whoever it was behind wasn't showing me his front wheel because I felt I had slowed quite a bit and the timer indicated that I had by 2 seconds……… Palmer started to disappear into the distance, and still the bloke behind never had a bite………… next time round at the pit boards I never looked at mine, I looked at the geezers' that was behind me, and it said 'Gavin +9'…………… wondered who the hell that was……… because I was expecting it to be Paul Cranston…… the bloke still never had a bite at me till another lap when I missed a gear on the start finish straight and he shot past…… and it was Cranston, he must have been using somebody else's board…… I was really struggling to hold on to the bike now and couldn't feel me fingers, and was trying really hard to relax, but was having major difficulty in steering the bike……… not good when your trying to go flat out at Billown Dip……… Cranston started to leave me and I started to get slower and slower, even coasted round Church Bends because I could twist my arm to get on the throttle, and it was so bad that I couldn't even manage to rip off one of my tear off visors, couldn't clench my fist enough to grab hold of it…… so at that point I decided to pull in…… it was in my best interests to do so……… so after 7 laps I called it a day…… my lap timer was indicating 2'31.9 which was 8-9 seconds off the pace I was needed to be doing (and can do), but the only thing that was going to help me now was a break…… so pulled in crossing the line and went back to the paddock. Me arms were pumped like never before, but knew that after an hour when they had relaxed that I would be okay for the rest of the day, but that was no use when I was only in the one race…… bollocks…… was bitterly disappointed…… should have really done a load of exercise an hour before I went out…… but hindsight is a wonderful thing innit…… had forgotten all about it, as I had not suffered much from arm pump so far…… but will be doing some exercises before the 600 race tomorrow…… Guy Martin went on to win from Lindsay and Finnegan, and he was flying for sure…… and well deserved it…… good on ya booooyyyyy……
Go two races lined up tomorrow, the first race of the day is the S&S Motors 600 race where I'll be on the 3rd row again, after suffering from loads of traffic in qualifying, and then the last race of the day which will be the 12 lap invitation Championship Race, so hopefully by then I'll have warmed up sufficiently……… fingers crossed I get to finish one and get a good result.
So, tune again, for hopefully a more exciting episode than this one…………………………………