Sunday

Tipped up in the Southern 100 paddock , early Sunday afternoon to set up an that........ Eamon, from Container Rentals Ltd (07624 493234), had played a blinder and done us the huge favour of letting us have another container for this event, so we went down to put some strip lights etc etc in it.......... Stuey had already erected his Awning, as I had three bikes at my disposal, both my tuned Bullock CBR600 Honda's were now here on the Island, and I had Juan Kinnish's Bullock GSXR1000 Superstock Suzuki as well..... (I'll try to stay on it this time).... so there wouldn't be much room in it for all of us and all the bikes....... Was disappointed to find that the bloody container was racked out in timber, with less than 3 feet of a gap between it...... Disaster!.... and on trying to drag one side of it out, it collapsed like a fucking pack of cards........ oops...... Double Disaster!....... Took us a while to get it sorted, dismantled properly and cleaned out, ready for all the gear to go in...... Eamon also had dropped down another container, which was fitted out as a canteen/office, so we could use as a hospitality suite...... But I was half expecting that Flyin Ryan Farquhar would end up using it, as he had done at the TT…… which wouldn't be a problem……… so we were looking a bit more than 'semi-factory' in the paddock what with my van, the 'hospitality' container, Stuey's Awning, the bike container and then Stuey's Race truck....... Oh yes indeedy.... first come, best dressed..... Har Har.......Tidied the place up a bit if nothing else, cos at the Steam Packet Races, we had stuff lying all over the place...... Had me mate Graham come down with a Scooter trailer he had fabricated for me new ped....... as the Benni Benelli was making its debut....... we managed to attach it to the scoot, and after a few trial runs, found that it worked perfectly........ cooooooool.... he even painted it the same colour...... Oh yes.

Signing on was at 7-00pm at Castletown Stadium, (as per usual)...... so got that, and the briefing out of the way, then it was back to the paddock to get everything sorted ready for practise/qualifying tomorrow.........

Monday

The entry list for this years Southern 100 makes for impressive reading........... Lougher, Farquhar, Griffiths, Anstey (making his debut), Finnegan, Martin, Hunt, Carswell, Parrett, Palmer, Dunlop etc etc etc....... the list goes on........ I always set mesen targets, and you have to aim high as they say...... The two I have set myself, are firstly, to qualify on one of the front two rows on both bikes, and the other is to sneak into the top ten fastest of all time (I'm lying 12th at the mo, my fastest lap being 2mins 24.73…… 105.7mph)........ although I'd like to finish as high up the field as I can, placings are not my priority...... hitting both my targets would do me..... It will also not be easy, because for one reason or another, I've never gone as fast at the Southern 100, as I have at the Steam Packet Races after the TT...... I have also never suffered from the dreaded 'arm pump' at the post TT races whereas I have 'big time' at the S100...... mmmmm ????? The Billown Circuit being definitely hard on the arms...... As big as an event the Southern 100 is, will also have to remind myself that the Manx Grand Prix is where my whole year is aimed at, so will have to try my utmost to stay on the bastards and not banjo myself..... lets see how that pans out ay...........
Tipped up in the paddock as early as I could after work, and Dennis Trollope had camped his stall where I was gonna park me van…… (bloody comeovers) saw that one of my spannermen for the week, Juan Kinnish, was already there and he started to fettle his GSXR1000 Bullock Suzuki that I would be riding…… he set the suspension differently to 'try something', and lashed the tyres back on that I had previously used at the steam packet races last month, and set the foot peg settings to their lowest…… found that even though I'm not the tallest, it was still an uncomfortable ride.
Was a bit hectic to say the least…… scrutineering was at 5-15pm and first practise was at 6-10pm…… and with the queue that there was, it didn't give you enough time to get all three bikes checked…… you definitely wouldn't have managed it on your own…… Went to the race office to see if I could 'run in' my number one Bullock CBR600 Honda out on the track as Tony Scott who tuned it advised me to get 80 miles on it, and after a bit of a lengthy discussion, they agreed that I could practise out of class…… there was 2 laps scheduled for the Newcomers so I could go out in that and then in the 250cc class and lastly out with the clangers (classics)…… needed to build the revs up gradually, a bit of a pain in the arse, but it was really good of the club to let me have the opportunity to do it…… So thanks a lot all the guys at the Southern 100 Club…… Peter, Georgie, John and Tubby in particular……… Had a bit of help getting the other bikes through scrutineering as me other spannerman, Willy hadn't turned up yet…… When he did turn up I told him I wasn't paying him nothing to be turning up late……!!…… anyway…… went out in all the practises that I could and managed to get 74 miles on it in total, so that was close enough for me…… that's that job out of the way…… It still had the standard easy slider tyres fitted and they were crap compared to race tyres……… even had a slide rounding the Iron Gate at about 25-30mph……… Jeez……

First proper practise was soon up and it was out on the big bike…… was wary that the tyre warmers hadn't been on long, and you just have to have heat into Slick Tyres or your asking for trouble…… the bike was trying to have me off all over the place and I wasn't enjoying it at all, even pulled in at Cross Four Ways to click the steering damper up another notch……… and me mate Scotty, (who's a copper) who was on duty there, and he stuck his big beak in me face, and said 'What's up Yissa?'……… 'Steering damper fella' came the reply…… carried on and was convinced that I had put in a crap time…… bollocks……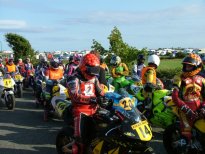 only managed 4 laps and if we can't do better than that, I was gonna park it. Told Juan it was crap, and he set about changing it all back to what I had used at the Steam Packet races last month…… I thought we had been there or thereabouts anyway, but apparently not…… so was optimistic I could do better in the next session………

Next session was on the 600 Honda and I had a good dice with Martin Finnegan…… I passed him a couple of times and he passed me back…… was well disappointed to find that the Bullock 600 Honda was still bogging down massively at a few places most notably at the Ballabeg Hairpin…… Finnegan pulled at least 50 yards on me there, but I managed to reel him back in, and it was quite good fun…… had to contend with a few backmarkers and Farquhar passed us both and there was no hanging on to him…… he was going well……… Had five laps then the chequered flag came out…… posted a time of 2'31.3 (101mph) which was not too bad for the first session on it…… hoped to get that down in the next one…..

Was out again on the Bullock 1000 Suzuki…… Juan and me mate Graham meeting me to exchange bikes so I was literally going out all the time, mainly because I was in between sessions running the new Honda in……… had a better time on the big Suzuki this time out…… Chris Palmer passed me and was going well…… this was what made me pull my finger out, but combined with the bike handling a lot better, I was able to stay with him…… we were both having trouble keeping the front wheel down coming out of the corners (the exact opposite of the 600!)…… on one lap, I pulled alongside Chris on the approach to Great Meadow, and he pulled his bike across in front of me to set himself up for the racing line and put me closer to the marshal standing on the track with the oil flag out that probably either of us wanted me to be…… (asked the official in the holding area to radio through my apologies) and I managed to pass Chris next time round into Cross Four Ways…… I was a bit hot into there and nearly overcooked it and this enabled Lougher to go underneath me on his 1000 Honda on the drive up to Church Bends…… on the exit he was nearly off it …… it tried to highside him when he whacked the throttle open…… spat him one way then the other and I thought he was off…… his feet where off the pegs but he saved it okay…… then he got his head down and started to pull away…… bloody fast that Fireblade of his, word on the manor was that they had just spent 60 grand on it!…… how do you compete with that………… caught up with Starrin Darren Lindsay, outbraked him and nearly overcooked it again into Cross Four Ways, and went wide…… he went back underneath me but looked round and let me back past him…… Top man. Kept my head down and was flagged in again after only 4 flying laps……… was pleased to find that I had qualified 6th fastest (2nd row) with a time of 2'26.91 (104.15mph)…… the top 5 being Lougher, Martin, Farquhar, Finnegan and Parrett…… so happy enough with that…… the changes Juan had made had helped a lot…… can still go faster though…… But a second row start was where I wanted to be.

Last qualifying session was the last one on the Bullock 600 Honda, and having to change bikes had me pretty much last in the holding area, would have been a bit quicker, but on trying to change my visor Juan popped the side pods off it by mistake …… Doh!!…… had to take me gloves and helmet off to fix it…… and when I had done the holding area had emptied…… bollocks…… had loads of traffic to contend with, and was gobbling it up at a fair rate of knots, but was losing a lot of time…… when I did get a clear run it wasn't for long as I hit traffic again pretty soon…… especially round the back section, where I was loads quicker than some of them…… Noticed that I passed me mate Goose going through Billown Dip,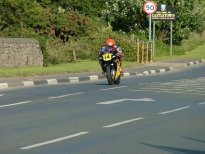 pretty hard not to notice the Union Jack on his back, so I knew that it was him, hairy place to pass someone but done it cleanly enough…… caught up with me mate Stuey on the run down to the Iron Gate, and watched as the Pesky Kid (Gav Feighery) passed him…… managed to do Stuey before Ballanorris (Joey's Gate) and then out braked Gav into Ballabeg hairpin…… he didn't give me much room it has to be said, but he wouldn't have known I was there till I had passed him…… the bike bogged down again, and he tried to get back past me…… mind you his bike was probably loads quicker out of that part of the track…… into Cross Four Ways there was a yellow flag getting waved frantically, and at first I couldn't see where the incident was, so I straightened the bike up and jammed the anchors on and it started to slide a bit as I used the back brake this time, I must have left a huge darkie on the track…… saw that it was Chris Palmer that must have clouted the bales, but he was carrying on, so it couldn't have been that serious…… passed him into Castletown Corner and the chequered flag was out…… double bollocks…… I hadn't had a clear run and reckoned my time must have been crap…… confirmed that it was hardly any quicker than the first session and had a best of 2'31.1 (101.2mph) which put me 7th on the grid…… there wasn't much in it between 3rd to 7th but was pretty disappointed with that……… I can do loads better…… was hoping for sommat like 2'28 which would have put me well clear with 3rd on the grid behind Ryan Farquhar and Guy Martin…… mmmmm……… a 3rd row start……… still it will have to do now……

Decided to use the 600 Honda in the first race tomorrow, as there are two classes in the Senior Solo Founders Race, (Class 1 401-600cc and Class 2 601-1000cc) and I know that I can nab the 600 lap & race records, which I am hoping to do……… all the big pretenders will be out on the big bikes, but I'm gonna run the 600 in the first one so that I can have two races on each bike, and realistically the 1000 races are just another ride out as I can't run one at the Manx Grand Prix (750cc limit)……… its all about getting time on the 600 Honda's.
Also seems to be no sign of Jason Griffiths or debutant Bruce Anstey, maybe they will be arriving today

So tune in for another very exciting episode…………………………………………………………………………