Met the team up at the paddock pretty early (10-00am)to get the Race Bike fettled…… we lashed a new set of tyres on it, (pretty extravagant for only two laps, but I wanted plenty of grip tonight), changed the drive chain, oil and filter and new front brake pads……… then she was soon ready to go…… We also fixed the quickshifter rod on the Supersport 600…… well, Graham went away and got it made for us…… top man…… we then set about fitting it.
Managed to get permission from the Clerk of the Course to practise out of session, some of the other boys, i.e. Jackson, Morgan and co seemed to have been doing it all week, so, needing to test this quickshifter rod worked ok, I went and asked and was allowed out too, just for one lap though………… was making me wonder how the others seemed to be out for two extra laps every night…… mmmmmmmmmmmm …… The plan on tipping up early enabled us to get the bikes in the scrutineering queue well early and we were lined up at the front…… happy days…… then we buggered off for some lunch……
Scrutineering opened at 4pm, but when we got there at 3-55pm they had already opened it and we weren't at the front anymore…… bollocks…… really wanted to get a clear run and get my head down………… Juan managed to get me to the front in the out of session practise, and looking behind me, there was the Jackson brothers……… Alan, had officially lapped quicker than me in practise at 117.98mph, but we knew what I had been doing from Sulby to Sulby and nobody else knew……… anyway…… knew I had this big target on my back and he was definitely going to try and catch me……
Took off with Paul Wilson on his 750 Suzuki and he got in front of me, when I went to hook up another gear, my foot missed the lever and the bike bounced off the rev limiter……… pop pop pop pop pop pop………… went to hook it again and missed it again…… then I had a look down and it was set too far away from my boot…… disaster!!…… had to take my foot completely off the peg to hook the gears, which was most annoying and uncomfortable I have to say…… Wilson must have had 300 or so yards on me, but I was determined to get him on the brakes into the QB, and managed it as well…… nice one, now I had a clear road…… It wasn't so bad being in top gear, or going down the box, but I must have missed a hundred gears on this lap by trying to change up the box…… I was well pissed off, and having the added distraction of Jackson on my hoop, didn't make for me being a happy bunny……… rode pretty hard, but felt that I was losing shed loads of time, and it also jumped out of gear a few times when I never hooked it in properly……… had a bit of a wobble on at Kerromoar, where I took it in a gear higher than I should have done, so will learn from that, and when I got to the Gooseneck, I had a big look behind and never saw anyone, which I was well surprised about……… so carried on regardless…… missed a few more gears, and completely messed up the Verandah because of it…… still carried on regardless and was well pleased to pull in…… came back up the slip road and watched as Alan Jackson crossed the line……… thought that he was more than 10 seconds behind me, which was not bad considering the problems I just had…… not too shabby then………… the team told me that I had lapped at 19mins 14 secs which was (117.64mph)…… and was surprised about that too…… it was looking good for the other bike………
Thought that it would be a good idea that my team mate, Seamus Greene qualified on the Honda, just in case sommat went wrong with his Suzuki's so we parked it up and let him fettle it for himself…… the main job was to adjust the friggin gear lever. Thinking back it would have bee handy if both me and Ian had qualified on his Suzuki's just in case sommat had gone wrong with the Honda's……………… its all something Martin will have to think about for next years riders……
I was lined up in about 12th away for the next session…… planned on doing two good laps, mainly to see what the fuel situation would be…… we had been trundling out to Sulby, flying back to Sulby then trundling back to the Grandstand, and we had plenty of fuel left…… this wouldn't happen in the race, so we needed some data, and tonight was the last night we could try it…… Was pretty amazed that there was 7 newcomers starting ahead of me in this practise……… realistically, its not too good for them, or the more experienced riders starting behind them…… I think that the organisers, shouldn't let newcomers out in the first 30-40 riders away…… Caught and passed a few riders pretty early after I had got the nod to go, had to be cautious, and lost a little bit of time…… went past somebody at the Post Office in Union Mills and somebody else on the run to Ballagarey, then down into Crosby, gave Team PC Manager, Chris the thumbs up……… there was a bit more traffic and I was held up big time into Greeba Bridge…… Saw 4 bikes tipping into Ballacraine…… took that steady enough and approaching Doran's Bend saw that the rider in front was Kenny MaCrea…… he was well sweet round there…… followed them to Laurel Bank and both me and Kenny passed one of them…… was held up all the way to Glen Helen, where I took quite a wide line and done three of them up the inside into Sarah's Cottage…… then managed to pass Ian Hickey through Lambfell…… there was nobody else on the Cronky Straight, so now I thought I might have a clear road all the way back to the Grandstand……… took the corners pretty good and could tell that I was on a reasonable lap, so was trying hard not to f*ck it up by making a mistake……was a tad wide at Alpine, when I tipped in a bit early, and went out towards the pavement on the exit, but kept it nailed all the same……… took some corners slower than I know I can, and was still braking earlier than normal into the heavy braking corners, like Sulby Bridge, etc, etc…… so that it enabled me to be nice and smooth and get the power down early…………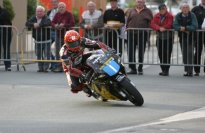 had a nice steady run, and felt that I could run at the pace I was doing all day, even though at the time, I didn't know what pace it was…… it was pretty windy up on the mountain, and up the Mountain Mile, the bike wouldn't pull top gear, so I had to take it in 5th, just snicking top at the end when the bike was banked over on the side of the tyre and then the revs increased……… was thinking of the time that was costing me…… had a safe run down the Mountain, and managed Governor's Bridge better this time around, I know I'm losing time here, so concentrated on what I was doing and it worked out alright, thundered over the line to start another lap, and was well clear of the rest of the field……… could feel a draft in my helmet and was checking if all the vents were closed as the combination of that and sweating a bit, was making it run into my eyes, so on a couple of occasions I had to lift my visor and wipe it away……… felt nice and steady and in control and had a clear road apart from one or two bikes, but it wasn't a problem getting past……… after rounding the bridge onto the Mountain Mile, the yellow flags were out, so I slowed a bit, the wind was still really strong and I couldn't see any incident……… there was obviously a huge lack of Marshal's because the next flags that I saw where at the Mountain Box, where they were being waved this time…… so I slowed right down…… saw that the helicopter had landed, and they were tending to somebody, so I wobbled past, then got my head down again……… still felt that I could have taken a few of the corners better, but it looked like the weather was closing in, and just wanted to get to the finish line…… passed another bike from Hillberry to Cronk Ny Mona, and when I saw the chequered flag, pulled in up the slip road………
Approached the team, and Juan had a big smile on his face and was nodding…… must have been a good one then…… Steve Parker from Energy FM came over and told me that I had just done two 119mph+ laps…… (119.19mph standing start lap + 119.01mph slowing down lap), I was nearly a second inside the Junior Lap Record……… and only 3/5ths of a second outside the outright lap record……… so not too shabby…… I had broken the 19 minute barrier for the first time with 18mins 59.6 seconds…… happy enough with that, especially with the traffic I had…… Steve then told me that Alan Jackson had put in 118.99mph on his 600 which I was well surprised about, but found out later that he had done it on the big Kwacker 750……… still, that was a f*cking good lap, and he will be starting behind me on it……… where I was in 5th up on the Mountain Mile, he would have been steam rolling up there in top gear……… its got to be said, that's the best bike out there…… and he's a good pilot for sure…… its going to be an interesting race……
Got the time sheets and my three laps were 1,2,3 on the leaderboard……… that was a nice confidence booster……… even my problem lap was 10 seconds quicker than anybody else's………… but not wanting to get carried away, they may be having problems, or sandbagging or whatever, and it counts for nothing unless you do it on race day……… so fingers crossed.
Found out that it was my good mate Gavin Feighery that had crashed at the Mountain Box, I heard that he was overtaking another newcomer at the time who went wider than Gav was probably expecting and put him on the grass, and he crashed into the box…… He was flown to Nobles and I did hear that it wasn't as serious as first feared, but was absolutely gutted to find that he had died in the night, only 21 years old……… couldn't believe it and still can't……… I started training in the gym in January, and Gav was already in there, he was as keen as mustard, he had lost weight and was training hard and it reflected in his riding this year when he was on top form……… he was another one of the nicest lads you could ever meet and he always laughed at my crap jokes, and I honestly don't think I'd ever seen him without a smile on his face…… really makes me wonder why I bother doing it, when sommat like this happens……… RIP Gav…… you will be sorely missed.

Tune in for another episode........................................