Tipped up at the paddock at around 10am………… no sign of Juan as yet, so pushed the No 1 bike to scrutineering and parked it in the queue that was already there. The team all had booked race week off for there holidays, but it would have been handier if they had booked practise week instead…… especially when the bike had to be up there for around 1-30pm…… scrutineering opened at 4pm, and they all the boys never finished work till at least 4-30pm……
After a few lengthy discussions, Martin allowed us to use a quickshifter on the Supersport bike, something I had tried on Juan's GSXR1000, and they are the mutts nutts, I have to say, (quickshifters enable you to change gear without closing the throttle by electronically cutting fuel to the cylinders by 75milliseconds)…… Martin was concerned that it might be a safety issue, as he was told that they wreck gearboxes, but if they are set up right, that is not an issue…… anyhoo, he was still against it, but he let us run one…… Juan set about fitting it, and getting a shift rod made up, it was no mean feat I can tell you, but well done Juan…… and thanks to Liam Quinn for his input and bits of rod.
Chris Kinley interviewed me in pit lane, and I waffled a load of shite…… then I had to get me helmet on toute suite, as I was lined up about 10th away and the first two had gone…… Davy Morgan was ahead and he was waving me through……… I thought 'Fuck that, you're not tagging me all the way round' and gave him the two fingered salute…… but it looked like he wasn't going anywhere, so I had to filter past him…… Took off with Kenny MaCrea who's a good lad…… The plan for tonight was to trundle out to Sulby, where Darren 'Muscles' Murphy was standing with a stopwatch, then go like hell from there all the way round, back to Sulby, then trundle back to the Grandstand to swap bikes and get on the SS600 with the quickshifter, which I was really looking forward to trying…… Was following Kenny for the first few miles, and we weren't travelling that fast, I think his confidence has taken a knock after his tumble on Tuesday night at the Bungalow……… I was talking to him about the corner was hard to see in the mist…… and he said 'What Corner?'……… no wonder he crashed…… Visibility was bad up there it had to be said, hence the reason they red flagged the session.
Still managed to pass a few Newcomers, but was looking behind a lot to see where Morgan was, but there was no sign…… if he started 10 seconds behind me, he should have caught me by now…… maybe he did have a problem. On the approach to the top of Begarrow, the yellow flags were out…… so stuck my hand in the air and slowed, all the way down the flags were still out, and I thought that there must have been a crash at the bottom, but no, nothing there…… then on the approach to the 13th milestone, there was waved yellow flags so I was cautious and then I saw the incident…… saw at least 3 bikes down and some guy on a stretcher…… hope it wasn't too bad…… looks like they had touched or the like…… and this wasn't a good place to have done it……
Quinny passed me on his 750, and never dragged away like he should have done, as I was still rolling the throttle…… he has confessed to struggling all week, and he's not enjoying it either, which makes it even harder…… he was flying last year…… toured along the Sulby straight and was passed by one of the leading Newcomers, then I saw Darren standing on the hedge giving me a green for go…… so it was 'hammer time'…… Caught the Newcomer on the run down to Kerromoar, had to sit behind for a few seconds to make my move and I took the bridge better than him, and powered past…… starting to get the run to Lezayre Church pretty much sussed and am satisfied with how I can go round here, but I'm sure I could take it slightly faster, even though the Marshals take a big step back when I approach…… hee hee.
Caught back up with Quinny and done him into Schoolhouse Corner in Ramsey, then climbed the Mountain…… there were definitely areas that I knew I could have done better……… the bike wouldn't pull the gearing up on the Mountain Mile and I was a couple of thousand revs down…… it was still the same that we've had on all week, and the wind was blowing against me, but I still think that the gearing we have on the other bike will be the way to go…… will be trying it in a couple of laps time, so will know for sure…… Caught up with a bit of traffic, but got past it okay, and was still steady away an that, in a lot of places…… there was a few slippery surface flags out and there seemed to be dust on the road at Hillberry, so went round there in 4th gear instead of 5th…… might have had to anyway, as the bike didn't want to rev up the hill…… Feel like I'm taking Governors Bridge better than I have been doing…… but still wobbling round the bottom of it on the damp patches…… crossed the line flat out and headed off down Bray…… hit the bottom with a thump…… had a steady enough run to Ballagarey, where I went round in 5th this time to get the drive out, snicking 6th gear on the exit, and took Greeba Castle in 3rd for the same reason, where I've been taking it in 4th……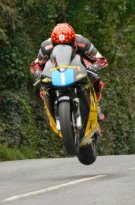 Can also take Ballacraine faster than I have been doing, but I'm trying to be smooth more than anything else…… the bike feels pretty flighty at the end of the Cronky Straight, more so than normal, but it must be more down to me, because both bikes are doing it…… The flags were still out for the incident at the bottom of begarrow………… so slowed right down and put my hand up and acknowledged all the Marshals on the way past…… got the thumbs up back…… felt that I must have lost a good 5 to 10 seconds through here, but no matter, its only practise……… there wasn't a bad crowd at Rhencullen…… it amazes me that they let you sit on the hedge there, when they won't let you in what I reckon are safer places like the straight before the 11th Milestone…… the mind boggles……… I'm still not taking Alpine as well as I would like, but will get better for sure…… steady away till I got back to Darren…… he gave me a big wave, then it was trundle back time to the Grandstand…… avoiding all the 'sandbags' on the way…… Ho Ho…… (for those who don't know 'sandbagging' is hiding your official time, by getting timed out on the course and not from the Grandstand where everyone would know it).
Caught up with John Burrows again…… he was on his 750, so thought it would be a laugh to have a run over the Mountain with him……… I pulled alongside him and looked across, he did the same then I pulled back in…… he told me later he was hoping that I would have passed him so he could follow me, I knew that too, so I never bothered…… I needed to add some time so I sat behind and watched…… and I could see where he was losing time, to which I told him afterwards…… followed him across the Mountain, and it was a good laugh, then pulled in when we got to the Grandstand…… Darren had been on the phone to the boys and told them what I had done, and it wasn't too shabby…… Got interviewed on the radio, by none other than Milky Quayle, shaved head, earphones and a mic…… hardly recognised him, and was surprised because I never knew he was doing it…… he told me that I had done 115.63mph……… he asked a few questions and I told a few tales, then he said I had time to squeeze another two laps in…… so, changed helmets, had a drink then it was straight back out on the Supersport bike with the quickshifter fitted…… Same deal, trundle out to Darren then give it some berries…… for the first few miles the quickshifter was weird to get used to, but when I did it was ace. At the bottom of Bray Hill, could feel that this bike steered slower……… bollocks…… same at the QB and Braddan Bridge…… hoped it was because of the tyres were cold…… all the way to Crosby the quickshifter was ace, it also helps to keep the revs up, but the main reason I wanted one on was to try and alleviate my arm pump problem……… by not twisting my right arm hundreds of times per lap, it had to help wouldn't you think…… Got to Darren and it was 'Hammer time' again…… took off and got my head down……… I felt nice and steady and it full control, which is always nice…… on the bumps through to Ramsey, its best to just get the bike in line and let it do what it wants to do……… takes some balls though, but the more you do it the easier it becomes……
You wouldn't believe it, but up on the Mountain, I caught up with John Burrows again…… he must be first out every night!…… this time though he was on John McGuinness's IFS R6 TT winning bike which hold the Junior TT lap record…… I was wondering how the hell he was on that, so I think I'll ask him when I see him……… anyhoo…… I was on a hot lap, no time to fuck about this time, so when I drove past him, he got the two fingered salute as well…… har har……… knew he would try and tuck in, but if he could he'd be doing well because I was going for it……… the gearing on this bike was better as it was using all the revs, so was thinking that the other bike will have to be changed to what this one is running…… still reckon I could have taken here and there better than I was doing, but I was smooth and safe, and that amounts to a lot…… going down Begarrow, there was a newcomer ahead, and I was travelling a good 30mph faster, and at the bottom drove around his outside……… then saw the Marshal's still waving the yellow flags…… Jesus!!…… Still!!!!……… thought that the incident would have been done with by now, maybe there was oil on the road or sommat……… one of them had to step back onto the pavement when he saw me coming, if the newcomer had been there, it wouldn't have been a problem, but as he was in the middle of the road, I had to go around to avoid him, then I stuck my hand in the air and slowed to a crawl……… got the thumbs up from all of them I was going that slow and one even applauded by one…… lost another good 5-10 seconds there this lap as well…… saw the green flag, gave the bloke a nod then haired off again…… the quickshifter worked great through Kirk Michael, it really made for a steadier ride…… not twisting your arm all the time works wonders…… aah… technology is a wondrous thing…… the only 'moments' I had was when I lost concentration coming out of Quarry bends and had my knee down…… oops, that had never happened before, I had been thinking of whether to stop and have a chat with Darren and because I was thinking of that I wasn't in the line I should have been in, so lesson learnt there…… think of nothing unless your on a straight bit…… and passing Darren I was still in two minds, which made me slightly overshoot the corner…… looked back and Muscles gave me a big salute, so I hoped that lap had been a good one…… funnily enough though, there and then, I wasn't really that convinced that it was…… traffic, yellow flags, and not doing things as well as I know I can had me in doubt.
Into Milntown, caught up with me good ol mate, Keith McKay…… he went past some newcomer by the jump at the Builders Centre and I followed flicking stones at me on the way, then I passed him into Schoolhouse Corner and indicated that he tuck in behind me……… as I was on my 'cooling down' lap, he was more than capable of tagging me…… had a really nice run over the Mountain, kept looking back to make sure that Keith was there and he was and so I tried to show him some of my lines…… and it was good fun I have to say……… coming out of Governors up to the start/finish line, he pulled alongside and gave me a big thumbs up and he was grinning from ear to ear…… when we pulled in he stopped by me said thanks, cos he learnt a couple of things…… I was chuffed that he could learn something from me…… no problemo me ol mucker, me ol mate.
All the team were there minus Juan, who had to go to catch a flight to Andy Wallace's funeral in Scotland…… unfortunately, Andy had crashed and lost his life at last weeks Ulster GP, and we're still finding that hard to take in……… Juan and I had been at the previous weeks British Superbike round at Croft in the North East…… where we were more or less parked next to each other……… Andy had stayed with Juan at last years MGP this years TT, and had borrowed my Awning, he had also been on the Pro-Cet Racing R6 that I had ridden before him……… he was one of the nicest blokes you could ever hope to meet…… RIP Andy, you were a top bloke.
Was informed of my lap time from Chris, who had heard from Muscles, and I was pretty happy with what I was told……… and happier when I know there is more to come…… so after that it was off to get the bikes fettled, gearing changed, cleaned, checked etc etc etc……… Ready for tomorrow.
So tune in for another very exciting episode……………………………………………………