Had set up in the paddock earlier in the week, Eamon McGhee from Container Rentals Ltd (07624 493234) had played another blinder by dropping us off a container to use… Which was damn handy. We also erected my old market stall type Awning so we could use that as a 'hospitality suite', and lashed all the plastic garden furniture in it, along with a fridge, kettle and microwave………… we now were, indeed, 'factory'.
We lined the bikes up at scrutineering just after 3pm, an hour before the scheduled opening, and we were quite a way down the pecking order……… and it took the Wad & Willy another hour and a half to get them through……… Jesus!!
The weather was pretty good, but the forecast for the next few days has given rain, so tonight may be the only dry laps we get for a while, so decided on using the spare bike for one lap, then go out on the race bike and try and get two laps in……… its pretty hard to tell them apart, so one of them went down pit lane ready for the off, and the other was held in parc ferme ready for when I pulled in…… Had the first breakdown of the fortnight when the 'ped' got a flat rear tyre, nearly fell off the bugger when the tyre came off the rim…… got it fixed then got ready to go out, and was about 30-40 bikes down the order, all the usual suspects that will be there or thereabouts come race day were in front of me, Jackson, MaCrea, Morgan, Quinn, Pattinson etc etc……… Got the nod to go and started with a 250cc bike, but that was the last I saw of him and took off down Bray Hill……… The tyres I had on weren't new, so it would be a good idea to be a tad cautious, combine that with cold tyres and a full tank of fuel, so it was going to be steady away an that… don't think I've ever taken the QB properly, and didn't again this time around…… bloody horrible corner…… wobbled round Braddan Bridge and headed off to Union Mills…… After here, I knew that the gearing was wrong…… I was already in a gear lower than I should have been as I didn't have time to pull top gear, it was far too tall……… this was a major pain in the arse as I knew what gear I should be in for the corners and I couldn't really tell, so to be sure, I was changing up to 6th (when I wasn't already in it) just to change straight back down again……… Couldn't believe the amount of flies that were out, and I already had a face full of the little Kamikaze's…… Passed a geezer up the Ballahutchin and then another on the approach to Ballagarey traffic lights, the oil flags were out here, so I backed right off, down at least two gears and had a look…… fortunately the oil wasn't really in the racing line, so got the head down and carried on. Passed another couple through Crosby and somebody else around the outside down under the trees into Greeba Castle (or the Mushroom Farms, Yissa)…… then got held up by somebody else into Greeba Bridge……… went underneath him here and had the old knee down……… oops, a bit early in the week for any of that bollocks………… had a nice steady run down to Ballacraine, and took the corner okay and headed off to Ballaspur ……… It had been 5 weeks since the last time I had sat on a bike, and it didn't seem to be handling as well as I remembered it the last time out at Jurby South Road…… It also felt slower, maybe that was just down to the gearing……… Caught up with Liam Quinn and went underneath him at Sarah's Cottage and then he blasted his 750 Suzuki back past me on the Cronky Straight, bloody 750's!! I was a bit pissed off when both my rip offs came off here when only one should have done…… Bollocks…… then I was stuck behind for the next few miles…… there was quite a bit of traffic into the 13th milestone, and I managed to get past Quinny and another two on the brakes, then around the outside of a couple more on the new tarmac at Westwood…… saw Davy Morgan ahead picking his way through the traffic, and tailed him to Ballaugh, passed Scotty Stewart on the way, you can always tell its him with the big Scottish flag on his back……… 'oota ma way wee man'…… Me and Davy went either side of some bloke on the run down to Ballaugh Bridge…… I got to the bridge first, then I had a clear enough run to Ramsey, although it looked like it was pretty damp at Quarry Bends, so steady away through there…… was still pretty rusty and wasn't really enjoying it if the truth betold, but I always just like to get the first lap under my belt which ever way it comes…… and as always, first lap equals, first night of practise, so its always going to be a wobbly one.
Rounded the hairpin, and it was damp again, but you'd expect it here, then wobbled round the next few corners in the wrong gear, it was hard to tell which one I was in, then waved to Juan & Bubba at the Gooseneck, who had the thumbs up……… passed a few more on the mountain, had to be cautious on more than one occasion, and lost some drive, especially when I went past a clanger (Classic Bike) like he was going the other way……… then I caught up with my Bullock team mate, Ian 'Pixie' Pattinson and had a bite at him at the Bungalow…… he knew someone was there, cos he had a look and stuck his leg out for me to come past, then he tucked in behind……… had an uneventful run down the Mountain, and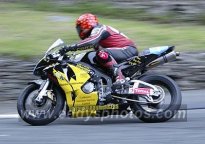 rounding Governors nearly got clouted by some geezer when I nipped past him, could hear Ian's bike still behind me, then we both pulled in to swap bikes……
Turned out that I had done 115.22mph for my first lap, which wasn't too bad an effort, lots of improvements can be made to both me and the bike. The Wad, Willy and Graham were waiting when I pulled in and had the other bike ready, so I swapped helmets and went back out……… got the green light, and steady away an that again……… another full fuel tank and cold tyres…… was slower down Bray Hill this time around, just to be extra sure. The gearing on this bike was definitely better than the other one…… we were trying two different things (well that's what practise is all about innit) and this one was more familiar…… found that this bike was more responsive on the throttle, the fuel injection mapping was obviously better, I also found it weird that it steered faster …… Its amazing to think that two bikes the same could be so different…… a couple of years ago, I wouldn't have been able to tell the difference, but the more miles you get in, the more you notice it……… ain't no substitute for experience.
The Marshal at Ballagarey Corner was in the middle of the road with the oil flag this time round, so slowed right up here…… On the crest at the Waggon and Horses had a bit of a tank slapper when I pulled the wheelie down so clicked the steering damper up a notch on the move, then had to click it up another a few miles later when I got the chance, as the bike was still shaking its head a bit. Found out later that I was clicking it the wrong way…… Doh!!……… Just concentrated this lap on getting some of the corners right, and tried to be smooth, and was throttling off in places where I won't be come race day, and tried taking some bends without using the brakes, this does make you ride smoother, believe me…… but it was all working okay, but it was still finding it weird that the bike was tipping in sooner than I was expecting it…… was thinking that I will be having a look at that when I pulled in…… Waved at Juan & Bubba again, and had another steady run over the Mountain, got past the traffic that was out with the minimum of fuss, but came a cross a gaggle of them into Hillberry where I had to go down an extra gear to scrub some speed off and I lost all my drive, but managed to go up the inside and got past okay…… wobbled round Governors again, and expected to see the yellow flags being waved, but no sign, so I was gonna shoot off on another lap, even though it was getting dark, but then clocked that the chequered flag was out, so stuck my hand in the air and toured over the line……… pulled in and gave the boys the bike…… Felt that I had gone steady, and it had been far more enjoyable than the first lap, which is what its all about at the end of the day……… The scoot was there with the stuff on the trailer, so I rode that back to the paddock…… well handy…… Turned out both my laps had topped the leader board, with my second one being slightly quicker than my first at 115.58mph …… so at least we had two dry laps under our belts, well inside the qualifying time, so if it rains we won't be pushed to go quick, and another 3 laps and we've qualified proper. Fingers crossed that the rain doesn't ruin the week………
So, tune in next time for another very exciting table topping episode………………………………