Had me mate Willy come down in the week to help me fettle the bikes ready for Jurby Road…… Changed the suspension settings, ride height and gearing……… changed them pretty radically if the truth be-known, to settings that I had never tried before…… Only thing that was worrying me was that I knew we wouldn't be getting much practise with only two sessions earmarked, and I knew that they wouldn't be long ones…… so with two bikes it was going to be difficult to get a setting that I was going to be happy with, especially with never having ridden the Honda on the road. Had the Bullock CBR Honda fairings all repainted and re stickered up as well…… so that looked all fine and dandy an that. Got the van loaded up on Friday Night…… rider perfectly okay (and planning to stay that way).
Saturday
Tipped up at Jurby at about 9-30am in glorious sunshine, that's probably every time this year, that the weather has been good at Jurby…… and parked me yum yum yellow van alongside me Bullock team mate, Juan Kinnish, who was having his first ever road race outing today……… thought he had his generator going early, but it turned out to be his arse popping…… Har Har…… Not long after that, me mate Willy and Stuey turned up…… we decided against setting the awning up, and just parked the vans in a 'L' shape to give us some shelter and got all the usual jobs done…… we had plenty of time to get sorted as the roads weren't due to close till 12-45pm……… so we were first through scrutineering and were fettled ready…… then it was Relaxville, Arizona.
Was entered in 3 races out of the 6 today, Races 1, 4 & 6……… the first and last being the point scoring 1300 Open Centre Championship races, where I had decided to use the Bullock CBR600 Production Honda, and was going to go out in the 600 race (race4) on the Team PC Racing R6 Yamaha. Team PC Racing Manager, Chris turned up earlier than normal, then was surprised to see one of our sponsors, TT and MGP pit board man Simon Harrison turn up…… he'd come over especially to watch…… and to swing me pit board out…… cooool. Went for a lap with him in his hire car, and the track was very clean…… a nice change and no mistake, the road sweeper had been out and all the grass hedges had been cut too…… so it made it look wider at least…… which was handy because its only 11ft wide in some places.…… and those places are flat out in top!
First practise was soon called and I went out on the Bullock Honda, resplendent in my new Total Oils sponsored Celtic Leathers, and very nice they are too, thanks Total Oils for helping me out there……and again, Sam's the man…… he's some boy at making race suits…… Had to follow the Travelling Marshal from the paddock round to the start line and he would pull in and let us go…… and I'll tell you what. If he was out in the race, he wouldn't finish last!!…… got to the start line and when the Marshal pulled over we were offski………
Was behind Nigel Beattie on his Road & Track sponsored R6 Yamaha down the long straight and it was no surprise that he was dragging away from me…… mmmmmmmmmm……… I was running one tooth down from standard gearing and it didn't feel quite right, but by the time we approached the fast left hand kink, I was at top speed and Nige obviously rolled the throttle and I drove around the outside of him…… see ya later Laxey Booooyyyy!……round the next tighter right hander I was still carrying good speed and managed to do debutant Kinnish and Carswell on their Gixer Thou's on the brakes into Ballavarran……… nice one…… now I had a clear road through the Pillbox section and out onto the Coast Road…… got my head down and tried a bit…… the little Honda was performing quite well, but it was jumping around a lot…… not got the suspension quite right then!, and the gearing definitely wasn't as I was in 5th when I should have been in top gear…… Carried on regardless thinking of the changes I would be making and after the 3rd lap the red flags were out…… was stopped at the start line and there was nobody behind me……mmmmm, where were they then?…… then the field started to filter through…… I had obviously been going harder than anyone else…… well, with only one practise on each bike you have to see how its going to handle at a fast pace, cos that's what its gonna be like in the race…… it turned out the John Crellin had crashed on the first right hander on the coast road and ended up in the field opposite……
Had a chat with 'H' on the start line after I heard him singing the theme tune that the Laxey Boys have pinned on me to that Beyonce song……'Tommy Clucas is crazy right now'……… He asked how the bike was handling…… and I replied 'Shite'…… and he said he knew I'd say that because it was our first real road outing of the season…… he said the next session wouldn't be so bad, and I knew he'd be right…… Toured back to the paddock…… Got in and my lap timer said 2'24.2…… which was not bad for the first practise……… the 600 lap record stands at sommat like 2'20.5 which Big 'H' set last year…… so I knew that was gonna be up for grabs today…… Set about changing the gearing on the Bullock Honda back to bog standard, so another tooth up on the rear sprocket…… tried not to get me new suit dirty whilst doing it……
Next session I went out on the Team PC Racing Yamaha R6, and was disappointed to find that it was chequered flagged after only one lap!…… What the hell am I gonna learn from that!…… Out braked Juan at the Cronk Corner only for him to blast past me on the long straight and disappear into the distance, It was further spoilt, by the fact that every time I passed the hard charging Guy Martin, he came back underneath me somewhere when the bike bogged down, usually after out braking him at one of the tight corners…… If I would have been him, I would have sat behind me and followed me round for a few laps…… but no…… got past him again out on the coast road, then the session ended…… was concentrating too much on what was happening in front of me to feel what the bike was doing… I was also surprised to discover that the R6 was lofting the front wheel when hard on the gas, with the gearing I had on it, I never thought it would, but she was certainly flying ……… To be truthful, another couple of laps might have made all the difference…… But now I was going into the race with one lap of practise on the R6…… which just happened to be the race that I was hoping to do best in……… all in all, not good.
The first 6 lap race was called, and we went round to assemble on the grid…… I was allocated a 2nd row grid position, and settled next to Guy Martin in my spot on the Martin Bullock Production CBR600 Honda…… I should have been on the front row, as I'm lying 4th in the championship, but it seemed that Gary Carswell had replaced me on the front row on the HM Motorsports Suzuki GSXR1000…… wasn't too worried as he would have passed me anyway down the straight…… The flag dropped and I had to slip the clutch a bit to get it off the line, the standard gearing being pretty shite on the start…… at this point the little proddy bike showed its true colours and I was completely swamped by loads of other bikes…… so much so I reckoned I was down to about 12-15th position at the first left hand kink after the straight…… Stuey shot past me from the 4th row and started to drag away, along with everyone else, I was just shaking my head as I was flat out!…… but I steam rolled into the left hand kink faster than the rest, but had to be cautious as some of them rolled the throttle, which made me have to, but kept it nailed enough to get past some, then went up the inside of a few at the tighter right hander then got a few more on the brakes…… looked like I was up to 6th position by this time…… not too shabby…… was tail grabbing Nigel Beattie on his R1 and just ahead of him was Juan Kinnish on the Bullock GSXR1000…… then it was Hunt, Martin and Carswell at the front……… not too far ahead either…… Both the guys in front were holding me up, and I really needed to get past them early so that they didn't get back past me on the long straight, which is about a mile long, between them, they were both taking up most of the road so there was no way past…… I was right up Nige's chuff into the top of Killane and the bugger rolled the throttle…… Christ!, I was soooo close to hitting him up the chuff…… was nearly on the grass too whilst avoiding him, which was also not good……… showed them both my front wheel at Cronk Corner, just before the huge straight, which was pretty pointless, as they would just blast away from me on the fast bits, but I just wanted them to know I was there……… it was pretty disheartening to see how many yards they pulled on me at this point, and I'm not lying when I say that they were dots on the horizon, then Pete Hounsell on his Gixer 1000 blasted past me but after taking the two corners absolutely flat out in top, and being heavy on the anchors, I got back past Pete and reeled more than half of the gap on Juan and Nige back…… and out onto the coast road I reeled the rest in, so much so that by Cronk Corner again, I was on the arses…… same thing happened again though, expected Pete to do me again, but he never, so must have pulled enough of a gap on him so that he couldn't catch me, which was good…… glanced at the lap timer and it said 2'21.3, which made me a bit upbeat…… that's less than a second off Big 'H's 600 lap record, and on a bog standard production bike with standard gearing and exhaust, was happy with that…… Was still trying pretty hard and had the Bullock Honda tank slapping on numerous occasions, the handling not the best, but I wasn't stopping now, and had the biggest one of all on the huge bump in the road on the approach to Cronk Corner…… That was a biggie, and it wasn't just the front end…… it felt like the bike had a hinge in the middle…… Was looking at my pit board every lap, swung out by Simon and Chris and I had a +5, so knew that I was holding a good 6th place, which was better than I had expected actually…… Was still gaining on Nige and Juan, and could see a back marker up ahead, they both got him before Jurby West Corner, but I never, then he proceeded to block me for the next two bends, which made me lose all the ground on the front two guys, so that was that, any chance of trying to catch them was well and truly oot the windae. So came home in a steady 6th place…… Big H taking the win, then Carswell, Guy Martin, Kinnish and Beattie…… so I was the first 600 home…… that'll do. Noticed that the newly painted fairings had been ground away on the left hand side, must have been when I was well cranked over on the new tarmac at the bottom of Killane…… oops.
Decided on altering the suspension settings on the R6 and went harder on all the compression by two clicks, could have left it alone, but something was telling me to make it harder, probably because I'm more familiar with a harder ride than a softer one…… ooeerr missus…… had I had more practise on it I would have know for sure, but had no option but to get on with it now…… the 600 race was soon called, and off we tootled out on to the coast road to the start line for another 6 lapper…… I wanted to do two things in this race, first thing was to win it, and the next was to nab the lap record to boot…… only thing though, was that I didn't know how the bike was going to handle, so I wasn't going to beat myself up if I didn't do either……this time I was allocated a front row starting slot, alongside Beattie, Carswell and Big H…… thought that I had got a good start when the flag dropped, but the bike bogged down again…… and I was down to about 7th or 8th…… Bollocks!……… soon got into my stride though and went up the inside of everybody bar Nige at the first left hand kink…… The bike was flying…… outbraked Nige into Ballavarran Corner and headed off up to the Pillbox in the lead…… right, just keep me head down…… Rounding Jurby West got a strong whiff of petrol, and had a look to see if the cap was shut, it turned out that it was but it was a bit of a worry all the same…… out onto the coast road she was fairly jumping around it has to be said, but I just tried to be as smooth as possible, and starting the next lap, I was hoping I was pulling away…… was gonna have a look back but thought, sod it, I'll wait to see my pit board…… Was flat out in top round the two corners after the straight, and after the Pillbox section caught my pit board and it said +0…… mmmmm……… that was from the previous lap though, and I'd have to wait for another lap to see what it was this time around……… I don't know if it was just me that thought it, but I was thinking that the track was bumpier than its ever been, was getting flicked all over the place mainly at the top of Killane where you get chucked out of the seat, but I felt I was really attacking it at the bottom on the new tarmac, probably one of the dodgiest parts of the course, but it was real short circuit stuff……… down the huge straight, glanced at the ol lap timer and it indicated a low 2'19……… that'll be the lap record gone then…… cooooool……… next time round passing my pit board it still said +0……… bollocks, somebody is coming with me, and I didn't know who it was, or how many of them there were……… tried to up the pace a tad, and was quite squirrely on the brakes into the corners, mainly Jurby West, and they were fading slightly as well…… mind you they were working hard…… looked at the lap timer again when I got the chance and it was down to the 2'18 mark…… record busted again…… this is good stuff…… next lap my pit board said +1, then +0 again…… decided that I wanted to see who it was, and braked earlier than normal into Jurby West Corner, so that whoever it was could show me his front wheel, and took a wider line to have a look……… and surprise, surprise, it was Big 'H'……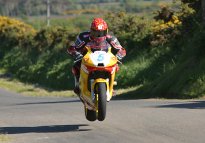 the bike bogged down, mainly because I wasn't concentrating on what I was doing and H came up the inside on me, then I pulled around the outside of him going into the right hander after Jurby West Corner…… we were side by side and I was dragging past him, and was even thinking of wiping his nose into there, but his line was so tight he was going to be lucky to get round as it was, so I let him through…… (he told me afterwards he was glad I did) right, ya big bastard, you can have a go at leading…… I was glad it was 'H' to tell you the truth…… now that I could see where he was, I felt a bit better……whilst following him, I was thinking to myself 'is that what it looks like going at this pace'…… scary stuff…… Oh yes indeedy…… Going over the line to start the last lap, it looked like H had slowed, and my first thoughts were that he was running out of petrol because I just blasted past him, but what the crafty bugger was doing was sitting in my slipstream all the way down the straight as my bike was faster than his…… Glanced at my lap timer, and we had again upped the pace to 2'17.5…… Jesus! we were 'on it' ……… 3 seconds inside the previous lap record…… Was hoping that I had pulled a bit on him, but I knew he was still there cos I heard his bike behind me when I was heavy on the anchors into Ballavarran…… he's a demon on the brakes is Big H…… there was a back marker ahead, and it turned out to be Angus McMahon, and fair play to him, he looked round and saw us coming and stuck his leg out to indicate he was getting out of the way…… hoped he would block Big 'H' but he just followed me through……… I knew I couldn't afford to make a mistake but nearly out braked meself into Jurby West and only just got it stopped which opened the door for the big bugger to dive up my inside…… bastard!…… tailed him all the way round the coast road, and was gonna have a go at him at the top of Killane, but there was no room, I had a bit of a moment when my foot touched down at the bottom of Killane and lifted the front off the deck while seriously banked over, it gripped again straight away, but 'H' pulled a few yards on me, but I got my head down and reeled him back in and we were side by side into the last corner, alt over t'shop on the brakes…… him taking the tight line, crafty bugger, so I went wide…… so on the exit he went wide and I went up his inside and it was a drag to the line…… I reckon he shaded it by about the width of a tyre, and it was confirmed when he was officially posted 0.07 seconds ahead………bollocks.
Fair play though……… he was riding well like he always does, and he broke down in the 600 race last year and gifted me the win, so it's probably evened itself out…… we shook hands on the cool down half lap, and he was well made up when I told him we were in the 2'17 bracket, and we had a good yarn about it afterwards…… he told me he showed his hand a lap early because he thought he saw the last lap flag out……… and was surprised to find it out the next time around…… Got your sums wrong there booooyyyyyyy……… Chris reckoned it was the best race he'd seen up there for years…… and it had been a bloody fast one too. Noticed after I pulled in my right boot was all covered in oil and so was the bike, but it wasn't as far back as the tyre luckily enough…… it turned out that the plastic oil filler cap had cracked and the engine pressure was forcing the oil out of the gap, I had replaced the O'ring seal on it and must have over tightened the little bugger……… was planning on going back out on the R6 but that put paid to that, so it was gonna be back out in the next open race on the Bullock Honda. It would have been interesting on the R6, because the times me and H had been doing would have put us up at the pointy end in the Open Races…… H was considering using the his 600, but opted for his mighty Gixer 1000 like I knew he would……
Time was a passing, and we didn't think that there would be enough time to run the last race as the roads had to be re-opened before 6pm…… and this was 5-40pm…… they informed us that it would be a 4 lap race and we went out and assembled on the grid…… Noticed that there were oil flags all the way round, and there was cement dust down all over the place…… you'd think whoever had dumped it would have pulled in sooner……Jesus!…… same thing again happened at the start, and I got totally swamped…… but made a lot of places back by the time we tipped into Ballavarran…… was in about 6th Position again, but there was only about 50 yards covering the top 6 at this point…… had to roll the throttle a couple of times to avoid the guys in front through the Pillbox and out on to the Coast Road all the way to Cronk Corner…… Out braked Nige and showed Juan my front wheel……… Nige never got me back till about a third of the way down the straight…… and he passed me like I was standing still……… that R1 of his is faaaaaaaast……he was clocked on it at 190mph last week at the NW200, so the little proddy bike never stood a chance…… tried to make up too much ground on the brakes into Ballavarran and had the front end skipping, and with all the cement dust down, it had me slightly worried, so took the safe option of overshooting and then had to do five point turn…… disaster!…… lost a few places then got back on the track and caught up with Greg Broughton on his Gixer 1000…… got past him at the top of Killane, but he zoomed past on the big straight, then I got back past him on the brakes into Ballavarran…… going past the paddock and heavy on the anchors into Jurby West Corner, the yellow flags were out and the Marshals were running in the road…… stuck my hand in the air and toured…… rounding the corner I saw Guy Martin lying against the hedge and his bike was in the road…… looked like he had high sided to me…… then the red flags were out and there was no time for a restart, so the race was abandoned…… think I was lying in about 8th place at the time…… Returning to the paddock, thought I'd have a try at 'backing it in' at Ballavarran corner, so when I approached, I used the back brake to lock up the rear wheel, and had the bike sideways with smoke coming off the rear tyre……… Yeee Haaarrr…… saw Guy walking about the paddock later on, so he was obviously okay…… tried to get some times from the race office, but they didn't have any……… and when I did get some, they weren't right…… they had Guy Martin down for the fastest lap in the 600 race at 2'19 sommat and a 113mph lap……… and me and H down for no times but had done a lap at 149mph!!…… so obviously sommat wrong there……… as far as I'm concerned my fastest lap was 2'17.54…… H can have the win, as long as I get the record. H must have been similar, or knowing my luck, he'll have gone quicker…… and nabbed his lap record back…… still it would be interesting to find out……
So not too bad a day…… I'm sure I would have gone quicker the more I did it………… I was still rolling the throttle in places where I know I shouldn't, but was quite pleased with how I was taking the slower corners, which I'm usually really crap at, so an improvement made there…… Packed up said ta-ra to Simon, Chris etc etc…… and headed for home…… Next up is the TT races, which is next Saturday night…… at the moment I've only got the 600 Production ride as my 1000 Production ride has fallen through…… if anybody out there can lend me one, I'd be happy to scream the nuts off it for you!!………
So, tune in for another very exciting, sun drenched, lap record smashing episode of ………………………………………… Tommy Clucas Racing.