Tipped up in the paddock at about 10-45am, there were a whole scutch of vans and trucks already there.......... keen or what..... Stuey and Graham had the Awning half up, and we jammed it in between my Yum Yum Yellow and Stuey's Race Truck. I had three races scheduled today...... two Open Races, in which I was planning to use Juan's Bullock GSXR1000 Suzuki again, and one 600 race in which I was going to use the Bullock Supersport CBR 600 Honda..... Had the Honda fettled ready and throught scrutineering well before slack Laxey Boy Juan turned up..... didn't take that long to be done, as we had done all the necessary jobs to the bikes after we loaded them up on Thursday night. When I signed on I was told I was No 14 when I was under the impression that I was No5 (I was in the programme and that had been my number all year), so they ended up swapping visiting Irish rider Adrian McFarland from No5 to No14, and I had the number 5 that I should have had........ so that was that sorted (or so I thought).
The weather was better than it had been at the Southern 100, and the sun was shining, although on the forecast, there were a few light showers for later in the day, but we'll deal with that if and when they turn up. Practise was delayed for the first time this year because of lack of Marshal's....... this was a real pain in the arse, not just for the riders, but for spectators and officials alike...... you'd think it would be easier to get Marshal's for a road race than on Jurby Airfield, but as it was a Saturday, probably a lot of the usuals were doing sommat else..... a pity though, as we were all hanging around waiting to get started.
Practise eventually got underway and we had two shortish sessions, one on each bike......... I went out on the big Suzuki first and it was a handful and a half, and no mistake........ took me a while to get into my stride and then the cable from my lap timer wasn't routed correctly (my fault) and it didn't help when it wrapped itself around my right hand, so had to practically stop to sort that out...... but after that was sorted, I caught the blokes in front and passed them, so I had a clear road, but next time around the chequered flag was out...... pulled in, and thought that my lap timer was well wrong when it indicated two laps at 2mins 11 secs..... which was sommat like 4 seconds underneath the lap record.......????........... somebody else must have a lap timer beacon just down the road from where Chris was holding mine, so I set it differently and phoned Chris for my lap time as I knew he'd have had a watch on me and he said that I was doing 2mins 22's............ probably a lot more like it......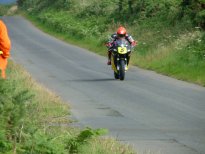 Next session on the 600, I led on the road pretty much straight away and was well surprised that nobody on a 1000cc bike came past me on the long start finish straight....... kept my head down and was a lot more comfortable on the 600, and was hoisting the front over the jumps and felt in total control of it, whereas I couldn't really have said that about the 1000 Suzuki...... pulled in after the chequered flag, only another 3 or 4 laps, and I'd gone round in the 2'19's, which was quicker than I had managed on the 1000......... could have upped the pace too, so knew that this race was going to be interesting, with Big 'H' always being the man to beat round here whatever bike he's on...... knew that he was the scalp that I wanted and the 600 lap record off him to boot....... Was thinking that it would also be a good idea to get the fuel mapping sorted on this 600 as it still wasn't very good at picking up at low revs and the midrange was crap..... I'm sure my V&M R6 is well quicker........ that wheelies on the power till 3rd gear whereas the only time this Honda would, is if you put a trolley jack underneath the f*cker........
Race One (6 Laps) was called and we all went out to form the grid......... Qualifying times determined the grid positions (apparently), and I was in second spot with Big 'H' on pole, also had Adrian McFarland and Paul Duckett joining us on the front row.......... It started to rain on the way to the grid and on the line it was coming down pretty handy, told the officials on the line that we were all on slick tyres and he said if we didn't run the race we would lose it as there was no time to call another delay....... I turned to H and said 'whoever is leading and thinks that the rain is too heavy to call it'....... and he said 'okay'...... so that was that sorted.
The flag dropped and again I didn't get the best of starts, and was down to about 6th place...... managed to get past Duckett and H before the fast left hand kink, and had to go practically in the gutter rounding the bend to avoid Nige on his Rockett R1 when he feathered the throttle and I never, there nearly wasn't enough room there, I can tell you..... then at the big ballsy right hander, I went up the inside of Gary Carswell and then done McFarland on the brakes at Ballavarran Corner to hit the front......... the bike was popping wheelies up through the gears and it wouldn't keep the front down........ got to Jurby West Corner and the rain was pretty heavy at this point....... there were plenty of flies and flying beasties out and when I tried to rip a tear off off, the tag broke off in my hand, so as I had two of the bastards on I tried to rip them both off and the same happened again....... couldn't believe it....... was trying to go as fast as I could whilst trying to peel the buggers off with my fingers, but it wasn't easy with gloves on....... Couldn't believe that I wasn't passed I was going that slow, but here I was still leading...... second time round I managed to get one of the tear offs half way down my face and then the bloody thing filled up with water....... was really starting to get annoyed by this time and it was costing me shed loads of time........ got to Jurby West for the second time and the rain was at its heaviest here, and the road was soaking...... took it steady, and even though I never had a slide, I decided it was dangerous enough and was going to call it........ crossing the line I stuck my hand in the air and waved to those on the line and wanted them to stop it......... crossed the line and waited for the red flags to come out..... nowt!...... the only thing I did see was McFarland zoom past me on his ex ETi 1000 Suzuki............ Christ that thing can go!......... caught him back up on the run to Jurby West and Big 'H' dived up my inside......... could have blocked him, but let him through and wanted him to drag me along, its a lot easier following I reckon..... 'H' was side by side crossing the line with McFarland, but the Irishman's superior speed left even him in his wake, but when we got to Ballavarran, we were both up his chuff....... through the Pill Box section H was on the grass trying to pass him and I could see him shaking his head..... so was I when I saw it.... McFarland was using the whole road and was a lot slower than both of us through here, but he was pretty good on the brakes though........ but H still managed to do him at Jurby West Corner, the rain had stopped and the road had near enough completely dried which was handy...... I then got held up by him, but passed him a couple of times only for him to get me back on the long straight.... I managed to get the rip offs off my lid by turning my head sideways down the huge straight, whilst flat out in top gear, the wind blast forcing them loose enough for me to grab hold of........ thank Christ for that........... McFarland was slower than me in a lot of places but it wasn't easy to get back past....... he gave me a couple of 'moments' when he rolled the throttle where I didn't think he was going to, with me right behind him........... 'H' was about 50 yards ahead and starting the last lap just had to get past, make it stick and chase after the big bugger....... was starting to struggle to hold on to the beast and the old arm pump was there again, (these big bikes are just arm pump machines) and managed to do McFarland before we hit the coast road for the last time...... had a hairy moment at the top of Killane when I went right out towards the grass, but dodged it okay and when I tipped into the last corner knew I had got second place which was not too bad...... H being not too far ahead...... Big smiles from the team when I pulled in.... only had three of four laps of practise on the big bike and then raced it, so had to be happy with second spot (and £150 prize money - whay hay)....... H came over and asked me why I never called a stoppage, and was well surprised when I said that I had, then Gary said he tried to get them to stop it too, but nothing happened there either........ a bit of a break down in communication there somewhere........ everyone wanted the race to be run, but it was bloody dangerous when it was wet, and at the time we all didn't know that it was going to dry out....... Noticed that I had lapped at 2'16.3 which was the fastest that I had been round here, so a PB to boot...... know I can go quicker than that if I could get used to the bike and it didn't tire me out like it did........ the bloody big bastard.......... apparently I was pulling a big lead out at the start of the race when it rained, and had I not encountered the problems I had, the others might not have made up the gap and I could have went on to win........ bloody rip off visors....... that's the first time that they have let me down.
Was soon out in the 6 lap 600 Race and again on the front row.......... thought I had everything right, but the bike bogged down on the line and I was passed by loads...... even Stuey from the 3rd or 4th row, he got a good start then....... Bollocks!!........ as soon as I got the thing at the pointy end of the rev range I started to pass a few and went in between Stuey and I think it might have been Goose, on his R6, there was only just enough room an all...... then up the inside and around the next few at the flat out left kink....... was in second spot by the time I got to the big ballsy right hander and after taking it flat out passed Nige who had been leading....... hit the front at Ballavarran Corner and took off up towards the farm...... a couple of big wheelies and jumps ensued and then I got my head down and arse up and tried to pull a a gap...... Knew that H was going to be the one to challenge me in this one like the last road race here in May, where we had a right ding dong and finished 0.07 seconds apart and smashed the 600 lap record....... felt that I could still up the pace even though my lap timer told me I was in the 2'18's after my first flying lap....... passing my pit board, Chris had +2...... kept at the pace I was going and then next time round it was +1 and then +0........... right then, he's caught me......... upped the pace and was in the 2'17's, (lap record pace), and still I got +0........ knew then that it was going to come down to the last few corners because I couldn't shake him...... still that's what I expected would happen anyway, what I wanted to happen was to bugger off at the start and leave him in my wake...... but alas, its the Isle of Man, not Fantasy Island!............ had a very steady run and could have pushed harder, but there really wasn't that much point as he would just come with me, so starting the last lap, just said to myself to steer clear of any mistakes keep a tight line to stop him barging through and I'll have it...... felt that I was doing okay and although I could hear him behind me coming out of the corners, he still had to get past......... on the run down to the top of Killane, I saw two back markers ahead......... bollocks, I could do with getting these cleanly........ had to throttle off approaching the bottom and they definitely cost me some time, just hoped that they would do the same to Big H............ saw that one of them was Angus, and he's usually a real gent and moves over and gives you loads of room, but this time he didn't know I was there........ had to wait till I got my chance, and went around the outside of them both at the bottom of Killane and haired off to Cronk Corner............ I wasn't really in the line I wanted to be in now and hit the bump all wrong before the last corner, I usually hoist the front and wheelie over it, but this time I landed on the front wheel and it went into a wobble, thought that H would do me up the inside but he never and I tipped in to the corner first........ thought at the time 'I've got it'........... then I heard his bike on the outside of me...... my bike bogged a bit and again we were side by side going up to the line...... he got the power down better than me, his lardy arse putting more weight on the rear tyre giving him more grip and he was slightly ahead, but me being lighter, I was dragging back past him and we were side by side looking at each other crossing the line........ I thought straight away that I had just shaded it...... H shrugged his shoulders and pointed as if to say 'you or me' just like he did last time, but this time I pointed to me and indicated that there was only an inch or so in it...... was happy enough, but felt it was closer than it should have been......... Got to the paddock and was told by the team that Chris Kinley had given me the win on the radio...... then H came over and said that he had just been told that he had been given it......... What!!....... thought he was winding me up and during his merry little jig, I went to the race office to find out what the official result was......... and they didn't even have me in the results........!! Couldn't believe it....... the cock up on the numbers obviously hadn't been sorted as I thought it had......... then surprise, surprise I was then placed in 2nd spot.......... didn't find out till much later that they had officially posted Big H a quarter of a second ahead of me......... which in real terms, at the speed we were going, is at least 4 or 5 bike lengths, which is a total load of bollocks, what race were they watching?......... H said it was too and he reckoned, if anything, it was a dead heat, but I still think that I just shaded it, if I reckon he had, I would say so, like I did at the May meeting............ Its hard enough to beat the big Bugger round Jurby South without him getting it like that, it would be a bit harsh to say he was gifted it, because he had to work bloody hard, but it still pisses me off ...... looking back, as he was on my outside, I should have sat up, blocked him, and gave him the choice of either to brake, or the hit the pavement, H did say he was surprised that I didn't............ but at least I learnt sommat. Knowing that mad bastard, he probably would have gone on the pavement to get past me.
Wasn't long before we were out again, and I chose to use the 600 again in the last Open event, felt like I was a bit too tired to haul the 1000 Suzuki safely round for another 6 laps......... got to the line and settled on my 2nd spot and saw that the race was reduced to 4 laps............ had I known that I would definitely have taken the big bike out........ the last two laps being the hardest, but too late now........... was absolutely murdered down the long straight and went up the inside of the Pesky Kid on a ZX-10 at the fast left hand kink, then he came back past me but I got him again on the right hander then a couple more on the anchors into Ballavarran corner.......... was then behind Paul Duckett on his GSXR1000.............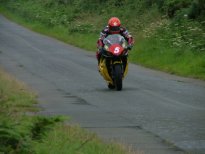 he pulled a bit on the fast bits, but I reeled it all back in on the brakes....... out round the back section he was holding me up and I was having bites at him all over the place and only got past him on the anchors into Cronk Corner....... he blasted back past me on the straight and buggered off, but after hitting both corners flat out in top, was on his tail again........ his bike was wheelie-ing all over the place, and it was pretty frustrating to try and do him cleanly...... had a bite at the top of Killane and he completely wiped my nose and I was lucky we never touched, then at the bottom, I went around his outside, but he wiped my nose again, when his bike was faster out, I out braked him again, and again he passed me on the straight........ I'll have to do it again then....... it was still the same till the last lap, where this time I was closer and made the move stick at the top of Killane and managed to get clear and came home in 5th spot............ 'H' winning again, then Carswell, McFarland and Beattie being the top four......... had I ran the 1000 Suzuki, it would have been different for sure..... but more time on the 600 won't do me any harm...........
So two 2nds (??) and a 5th wasn't a bad end to the week, a few more dust collectors and a few more quid, which will buy me another set of tyres for the MGP...... Still felt that I had won the 600 race fair and square though, wins are hard to come by, so you have to grab em when they do......... but what can you do........ having me that far behind Big 'H' was a joke, I know mistakes can happen.... funnily enough mostly where I'm concerned...... but if there's been a f*ck up, why don't they just say so..........
Not got anything else planned till the Manx Grand Prix, where hopefully, we can have a bit of luck this time around and get the results we're looking for........... fingers crossed that it will happen....... come to papa....
So, tune in for another very exciting, hopefully top stepping episode of..................................................... Tommy Clucas Racing.