Didn't sleep very well for some reason, the bed was well comfy, but I was awake, throughout the night…… shit happens I suppose…… Me top mate 'The Wad' was helping me out today, back from his Annuals, and I also had Willy coming up again as well…… No Team PC Racing Manager, Chris, though…… as he was off to put his Easter Bunny suit on………… the weather was absolutely scorching though, and with no wind made it absolutely perfect…… well, not so perfect when you have leathers on for any length of time…… Sweatsville, Arizona…… and no mistake.
Richard arrived with the spares for the Bullock Honda, and I left The Wad and Juan (Harrison) to fettle it while me, Kinnish, Beattie, Hunt and some of the Andreas officials went off to inspect the track…… as they wanted our input after the crashes of yesterday…… we all pointed out the same thing, but there wasn't much we could do about it today…… even if we moved the marker cones it would narrow the track too much, so this improvement would have to be made before the next event…… it was pretty pleasing that the club were asking the riders though. Shame somebody hadn't pointed this out earlier, as the track had been like that for ages.
Had to sign on again today, and I had to get my gear checked (cos I fell off yesterday) while the boys did the scrutineering bit…… so were all hunky dory…… or so I thought…… Took the Bullock Honda out for the first practise session and noticed that the boys had the gears working the wrong way round……… Doh!!……… back to the Awning, and had to take the R6 out…… but they never had the tyre warmers on it…… aaaaarrrghhh……… swapped bikes anyway, and had to shout them for the transponder and lap timer, to get those swapped as well……… then off to the holding area again…… I'm so organised, I hate chaos like that, its only little things, but it doesn't help when your already wound up…… used the first session to warm the tyres up and the only thing of note that happened was that Nige Beattie passed me on his immaculate Rockett R1 Yamaha…… a nice bike that, seems almost too pretty to race…… couldn't believe I was suffering a bit with arm pump, but my arms were a bit sore from gripping on too tight yesterday, when the bikes weren't handling as well as they could have been…… went straight out in next session, caught and passed Kinnish on the Bullock 600 Suzuki, then hesitated at the Bus Stop when there was 3 slower riders, and Juan took all 4 of us in one go…… hang on there yissa…… its only practise!…… haired round again after him but the chequered flag soon came out…… was sweating cobs and felt that I was struggling a tad, but the bike felt better with the suspension changes we had made…… The changes to the rebound damping on the arse end had sorted out the tank slapping on the front……
The next two practise sessions were swiftly up and I was out this time on the fettled Bullock Honda…… only had 4 laps in the first one and managed to catch Stuey, who had been well off the pace all weekend so far…… so I said I'd follow him in the next session to see where he was losing all his time……… saw straight away, where he was slow…… and it wasn't just in one place, and you could tell he wasn't concentrating……… he was missing the chicane, apexes, and clipping marker cones, and braking far too early…… I passed him and told him to tuck in behind…… he tried to follow, but was too busy shaking his head at himself to keep up…… pulled in and had a chat about it…… to which I'm glad to say he responded…… eventually going over 5 seconds a lap quicker later in the day…… which made the difference from finishing 18th to finishing 6th……… about time an all……
First race of the day was soon called, the 10 lap Centre Championship……
Round 5…… Out again on the Bullock CBR600 Production Honda, and I was allocated my usual place on the front row……… Had Juan, Nige Beattie, Rob Sells and Paul 'Big H' Hunt on there with me…… Had the start and as usual the top three (Kinnish, Hunt & Beattie) started to bugger off and I was left dicing for 4th with Murphy again, until the race was red flagged after 5 laps…… it had been a good dice up until then, I was right up his arse and having bites at him but losing to him down the straight bits………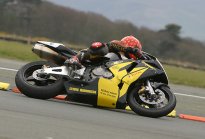 we had been dragging Derran along with us, and he was well made up when I told him he must have been circulating in the 58 second bracket, because we had been…… 'Yee Harr', came the reply…… the fastest he'd ever been. Thought at first that it might have been Nige that had crashed, but it turned out to be Oatsey, he was ok, but heard that his R1 went cart wheeling off the track after a big high side…… poor bugger. At the restart, was seventh into the first corner, but out braked Sellsy to go sixth then chased after Murphy and Derran who were ahead of me…… don't know why but was riding like an old woman and was slightly losing ground to them, so tried to knuckle down and get my shit together…… was gaining on them, and rounding the hairpin, on the gas Murph had a go up the inside of Derran, and high sided big time, right in front of me…… Shite!!!!…… he went really high and landed heavily and I had to take avoiding action, had to swerve off to the left and ran over the biggest marker cone I've ever seen, thought for sure it would have me off, but it just flattened…… lucky!…… then I had to contend with the rough gravel, then the grass…… Jesus…… how I stayed on after all that was beyond me…… came back on to the track, and was sure it would be red flagged, and it was …… turned out Murph was knocked out cold, but came round after a while but went off in the meat wagon to Hossie for a check over…… They were gonna keep him in, as the Doc's said there was definitely sommat wrong with him…… but was released when his mates said he was always like that…… Ho Ho Ho…… Oh, the hilarity!…… Anyway they abandoned the rest of the race and took an average from the two starts which put me 6th…… they took it from the previous lap, which meant Murphy had finished ahead of me……
Next up for me was round 5 of the Formula 600 8 lap Race…… No Big H for this one as he opted not to do it, The flag dropped, and I got to the corner in third spot, but out braked Sellsy to go second behind Nige who got yet another flier…… was up his chuff into Snuffies and for some reason went slower than he normally does and I had to dab the brakes…… scary stuff!…… followed him for the next few laps and was losing ground on him, when again, he was getting the power down better than me…… he was putting in consistent laps, and anywhere I gained on him he pulled it back again…… on the 6th lap Juan came underneath me at Nan's, but because of this he ran a little wide and we were side by side into the crossover chicane, and there was only enough room through it for one bike…… it looked to me like I was going to get there first, Joo obviously thought the same, when he took the option of going straight through the chicane to avoid the kerbs…… he did the gentlemanly thing of waving me through because he had unfairly gained a place, then he waved again, but as he had pulled 50 yards on me and I was still trying to catch up! He did help, however, to drag me up towards Nige…… we were gaining on him again, but never had enough laps to do it in, and there was only 1.3 seconds covering the three of us at the line…… Can't afford to keep letting him get away…… but he's got the starts sussed for sure……
Tried a few more rebound suspension changes on the Bullock Honda for the next Centre Championship race to see how that would fair…… was sixth into the first corner but took 4th after doing both Sellsy and Derran …… couldn't believe how the badly the bike was handling with only two clicks to the rear rebound damping, just as I tipped into Snuffies the back end was hoping all over the place……… it was the same every lap and it wasn't the only place it was happening…… overshot a couple of corners, as the bike was wobbling more than it had been doing, and I knew I'd be lucky to stay in 4th place, saw that Derran had broken down on the last lap, so knew I didn't have to contend with him anymore, but did manage to get to the flag in 4th which was better than I could have hoped for, considering…… First thing I did was change the bike back to where it was before.
Next up was my 9th race of the weekend, Round 6 of the Formula 600 championship, and was really wanting to win this one, and it turned out to be the best race of the weekend………… The main protagonists were on the front row…… Juan, Nige, Sellsy and me, and after the flag it was Juan who got the hole shot, followed by Sellsy, Nige and me…… It was a bit chaotic into the hairpin as Nige overshot the chicane to take the lead, can't remember what actually happened, but Nige waved Juan back through, but he wasn't close enough to do so and coming out onto the back straight, Sellsy had somehow nipped into the lead, then it was Juan, Nige then me…… Juan went back into the lead on the brakes into the Bus Stop Chicane, and it was still the four of us together crossing the line for the second lap…… Nige out braked Sellsy into the Hairpin, and neither of them wanted to give way, but Nige came out on top……… I had to get past too if I wanted to stay with Kinnish, and managed it at Snuffies by going up the inside to catch the two Laxey Boys…… The next few laps were loads of fun…… we were tripping each other up all over the place and on more than one occasion we were side by side going into the corners…… a right hoot…… Nige took the lead from Juan down the back straight, with us all slipstreaming each other, Juan was really defending his line here, by staying over to the right hand side of the track, so that I wouldn't nip underneath him at Snuffies…… this was probably my stongest part on the track……… this was the only place I thought that I could get him…… so as I couldn't go up the inside I had a go around the outside…… only trouble was that Kinnish went wide and forced me onto the edge of the grass, the bike jumped about a bit on the rough part of the track and thought that I wouldn't make the chicane without taking the front two down, so took the safe option of overshooting…… at this point, by missing the chicane, I could have taken the lead, but braked hard to avoid doing do…… this enabled both Beattie & Kinnish to stay the leading duo…… and I nipped back in behind them………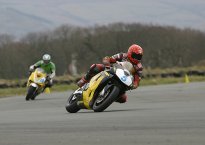 into the hairpin next time around all three of us were squirming all over the place on the brakes and there was absolutely nowt in it……down the back straight it was the same as the previous lap, Kinnish over to the right, and I had another bite around the outside at Snuffies, and again he had me on the edge of the grass…… Jesus!…… had a bit of a moment when it tank slapped a bit and I had to pump the brakes back up…… this meant that I tried to make it or miss the chicane again…… took the safe option, like I would try to do every time, and slowed sufficiently enough that the two of them wouldn't lose a place, and I nipped back in their slipstream in 3rd spot……… next time round thought better of it, but Kinnish still wouldn't open any doors for me, so there was no move on, and he's pretty hot into the Bus Stop Chicane, so there was no chance there either…… going into Nan's for the last time, we were still having bites at one another, but Nige had the racing line, with Juan trying up his inside and me trying up the inside of the pair of them, not surprising that Nige got the best drive, then Juan, and I had a bit of a slide, but it stayed the same to the flag, with Nige shading it from Juan then me…… We all agreed afterwards that was the best race we've been in for years, and must have been a beauty to watch…… Then it was soured by the fact that I was told I was getting a 20 second penalty for overshooting at the Bust Stop Chicane, twice…… wasn't happy…… I can appreciate that the club are trying to inforce the rules to makes things fair on everyone, and to make it more professional, and I must admit, its better than it has been, but there was no riders protest, apparently the Marshal's radio'd in that I had missed it, but obviously hadn't explained why…… I felt that I was getting penalised for taking the safest option, and you only have a fraction of a second to decide what to do anyway…… I said that I never gained any advantage, at no time whatsoever did I take the lead illegally, but was told I hadn't lost anything…… what's that all about?!!…… have I got to park up and wait for the next rider to come past me before I can start again……??? Juan joined in and said if that was the case he should have been penalised for doing it to me the previous race and Nige should have been when he took the lead at the start in this one, but the Marshal's hadn't bothered to radio in for those incidents, and rightly so in my opinion, it happens in racing…… and Big H has been known to do it when he causes chaos at the first corner…… which is most races! Makes you think if I would have been better charging into the chicane out of control and crashing, taking all of us out…… that would just be a racing incident then…… easiest thing that I can see is taking the safe option of overshooting, and I would do the same again…… a less experienced me, might have tried to make it, and it probably would have ended in tears …… my 3rd place was reinstated……
My last race of the weekend was the third round of the Champion of Champion's class…… Knew I'd be in with a better chance on the tuned bike, but took out the Bullock Honda instead…… Got my worst start of the day, after having my handle bar clipped by Sellsy on his way past…… that nearly had me off, had me in a wobble and I lost loads of places…… managed to get past a few going around the outside at the first corner, out braked someone else at the hairpin, then managed to get past Scotty Stewart and the Goose down the back straight and at Snuffies…… was now back up to third, and it was Sellsy ahead on his RR Honda…… took me a few laps to reel him in and then sat on his tail…… he pulled away down the straights but reeled it all back at Snuffies and the Bus Stop…… knew that I would have to do him well before the last corner, because if it came down to a drag to the line, he would get there first…… so on the last lap I out braked him into the hairpin…… we both had to fifty pence piece the corner to avoid the bikes touching, but he got me back down the back straight…… could have barged me way through at the Bus Stop but thought better of it, as I might have ended up on the grass or taken us both out, then had another bite into Nan's, got on the gas and had a huge 'Gary McCoy' slide, so that was that…… lost all the drive and he got away to finish in 2nd and win the class with me in 3rd spot (2nd 600)…… didn't really matter, as it was this race was just extra practise, and the bike certainly behaved better when I went back the two clicks on the rebound damping…… so sommat learned there……
So that was the weekend over………… 2 x 2nds……… 5 x 3rds……… 1 x 4th ………1 x 6th………… and a crash…… most people would have settled for that, and although I was happy enough with my lap times, I know improvements can be made…… I could have done with winning a couple as Beattie has stretched his lead on me in the 600 Championship, with wimming all four of the 600 races…… just!…… and well done to Juan who won all of the big bike races……
What's keeping me upbeat though, is that I'm really looking forward to taking possession of the tuned Bullock RR Honda's, which will be brand new. The Team PC Racing R6 Yamaha is nearly 4 years old, so I was on one of the oldest bikes out there, (although its not slow and its performing very well) …… and the Bullock Honda was only bog standard, so roll on the fast ones I'll be getting after the TT……
Got to say a huge thanks to everyone who helped me out this weekend as we had a busy time, and it would have been a reet struggle withoot them…… So thanks a lot everyone……
So, tune in next time, for another very exciting, sun burning, barbecuing, hopefully on the top step episode of…………………………… Tommy Clucas Racing.