Whilst getting ready for the weekend, found that I had a bit of a problem with me new Yum Yum Yellow van…… Had heard a bit of a clunk from the near side front wheel, and figured a wheel bearing must have gone, had to order one, but on changing it, Found that the damaged bearing had worn a groove in the drive hub, and that was also knackered……… Bollocks!!…… The part was a main dealer only one, and I was worried that it wouldn't come in time for the weekend (knowing my luck) but I managed to get one on Thursday afternoon, and got it all lashed together on Thursday night, albeit £200 poorer…… close one. Thanks to me mate Derek Martin for getting his hands dirty.
Had Friday off, as it was a Bank Holiday, nice and handy that, so did a spot of fettling to the bikes and got the Yum Yum Yellow all loaded up with the help of my mate Willy, my help for the weekend, and she was pretty full, I have to say…… Planned on setting up on the airfield paddock on Friday night, and staying up there all weekend, so took my Zed Bed up and loads of other stuff…… well, it saved packing the Awning up etc etc, and would give us the jump on Saturday morning, what with already being set up an that…… If we were anywhere else, we would be staying in the paddock anyway. And we had most of the comforts of home in Stuey's truck. It was pretty dark up there, that was for sure, but the weather looked to be improving, so fingers crossed it would continue tomorrow…… got me noggin down in the back of me Yum Yum Yellow at about 11 ish oclock.
Saturday 10th April
Woke up at around 8-30am, the weather wasn't too shabby…… overcast, but hardly any wind, which makes a nice change, and best of all it was bone dry…… handy. Got the usual jobs done and was fettled ready……… It was much more relaxed than it would have been if we hadn't already been set up. Had ten races lined up this weekend, five on each of the days, consisting of two 1300 Open Solo Centre Championship Races, Two Formula 600 races and the Champion Of Champions Race which would be the last one each day……… so we were gonna be busy…… The course was going to be run in the Anti-clockwise direction today and then the Clockwise direction tomorrow. Had the bikes through scrutineering as soon as my help for the day, Willy, tipped up and we sailed through no problemo.
Was going to go out in all 4 practise sessions as usual, as I'm running two bikes, and got bollocked after the first one…… went out on the Bullock Honda and did 6 laps and took the chequered flag, carried on hairing round and as I approached the line again, ready to stop, nobody seemed to be pulling in, so toured round for another lap, then was stopped on the line……… told The Clerk of the Course I didn't want to be pulling off on the fast start finish straight when the were loads of Newcomers still hairing through……and I didn't understand why nobody was pulling in either…… so, better being safe than sorry, and I didn't fancy being T-boned either. Went straight back out for the next session, again on the Honda, this time out was dicing with Juan Kinnish on the Bullock 600 Suzuki, and on the third lap Nige Beattie passed me down the back straight and the red flags came out…… stuck my hand in the air and slowed…… saw that there were two off at the crossover chicane onto the start/finish straight…… one of them being me mate Robbie Silvester of VRS Racing, who was making his debut at Jurby……… a good start…… not. Was held on the start line, while they cleared the mess up, but most of us decided to pull in…… we were told that we would run that session again…… when they called it I decided to go out on the R6, and this time followed Big 'H' around, he was on his Gixer Thou, so was pulling away from me a bit, but what was going through me head was that the same scenario happened last year…… Practise, Anti-clockwise direction, me one me R6 and H on his 1000…… and it spat me off…… Big Time!…… so was being extra cautious…… this year though I had two sets of tyre warmers. Went straight out again in the next session, and passed The Goose and young Murphy on the brakes into the Perimeter section and as my tyres were already up to temp, got my head down and got some decent laps in……… according to me lap timer they were all in the low 59's which, for me, was pretty good…… never usually do anything spectacular in practise, unless I'm jumping off the bastard! Still didn't feel like I was riding particularly well, and felt a bit rusty again…… I definitely feel like I need to be on the bike every weekend to get my head round this.
First race was soon called, the 10 lap Centre Championship…… on the Bullock CBR600 Production Honda, and I was allocated a place on the front row……… cool…… Had Juan, Nige Beattie and Rob Sells on there with me, but no sign of Paul 'Big H' Hunt………mmmmmmmmmmmm…… where the hell was he then?…… got the flag to go and I got a crap start…… Juan was leading, followed by Nige then it was Derran Slous, young Murph and me in close company…… managed to do two of them in one go on the anchors into the Perimeter section and was now in third place…… stayed there for the whole race with Murphy on my tail, and was trying to hold him off, as his bike is quicker than mine…… noticed that coming out of the crossover chicane, onto the start/finish straight, there was a bump mid corner, which was lifting the back wheel off the deck as I tipped it sideways…… it was really unsettling the bike and I wasn't too impressed…… Into Nan's and I saw that Derran had crashed the Cringle Construction 1000 Yamaha…… looked like he had lost the front to me, and could see how he had done it, because the track was in pretty poor condition at this particular area……… managed to keep the position I was in and get to the chequered flag in third spot…… just…… had to hold off young Murphy as he had been hounding me for most of the race…… another 100 yards and I think he would have got me…… so was well happy to score a podium finish on the little proddy bike……… and was happier still, when I checked my lap timer and it had a best lap of 58.44 secs……… bloody hell, that's not bad……was running consistent times too……… was looking forward to the 600 race on me tuned Team PC Racing R6. Turns out that Big H was one of five riders who never made the holding area in time, and they closed it and wouldn't let them out…… Can't blame the organisers as they are trying to run the meeting better than it has been before, and if they can turn away the current double champion, the can do it to everyone else…… I'm pretty sure it made everyone sit up and take note……… shame Big H lost a lot of points for that particular point to be proved though…… what it did do though was throw the Championship wide open, which can't be bad.
Wasn't long before we were called for the 600 race, which was race 3 in the programme of events and again was on the front row, for this 8 lapper…… found that the bloody clutch was slipping again, but didn't after a couple of laps…… it was handy having two warm up laps, but as we were now down to one lap for some reason, it had me slightly worried. I have bought spare plates for it, but haven't lashed them in yet…… another crap start, this time because of a couple of wheelies (the proddy bike doesn't do it), and was fourth into the first corner…… Had a lap in that position, and on the next lap round Big H tried to do Juan around the outside into the first crossover chicane, when there was no room for it, Big H had to go wide but recovered and went right across the front of me…… I had to take avoiding action, sit up, brake and overshoot……… bollocks…… by the time I got back on they were through the Bus Stop, but handily enough I hadn't lost a position. Set about catching them and was gaining a few yards per lap, but it was gonna take sommat special to catch them…… on about the 5th lap H crashed at Nan's, on exactly the same ridge in the track that had Derran down in the Championship Race, must confess that I had a few front end wobbles on it meself, every time I hit it……… It was harder to miss than to hit as it was right on the racing line…… that moved me up a place, but not for long as the red flags came out…… so it was back to the line for the restart. Got another below average start after another bloody wheelie off the line…… bollocks!…… and got samwiched by Sellsy, and The Pesky Kid, Gav Feighery…… was awfully close to getting hit…… Coming out of the Bus stop, thrashed the tits off the Team PC Racing R6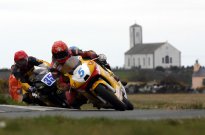 and managed to get good drive round Snuffies, got Gav halfway down, thought that he was doing well…… a definite improvement anyway……then it was three abreast into the fast Perimeter bend with Sellsy on the outside, Juan in the middle and me up the inside…… Sellsy braked first, then it was just me and Kinnish…… now this was going to be interesting!…… neither of us wanted to give way, but I was glad when Juan showed his hand first, and I was through up to second place…… The front pushed like hell round the corner and had me knee scraping as well as the gear lever…… oops…… set about after Nige and could see that I was gaining on him, dragging Juan with me, and we were in the low 57 second laps, but didn't have enough time to do it in and at the flag took 2nd place, with less than a second covering the top three places…… another couple of laps and I reckon we would have had him…… It all meant that Nige had gained 3 points on me and took over the lead in the 600 Championship…… Double Bollocks…… but fair play to the Laxey Pole Cat, he was riding well.
My next event was Race 8, which was round 4 of the 1300 Open Centre Championship, again out on the Bullock Honda…… not the best of starts, the little proddy bike just hasn't got the grunt that all the others have got, and its hard to get it going, even with slipping the clutch…… but made up a few places into the first corner and was up to 4th place…… held that until I crossed the line to start the second lap, and young Murphy passed me down the straight…… was on his tail into Nan's, and I held the same tight-ish line as normal, trying to get the drive on him up to the Bus Stop Chicane, the front hit the same ridge in the track that the other two guys went down on, and the front washed……… slid down the track, still holding onto the bike so that it wouldn't flip…… across the gravel and on to the grass…… picked the bike up straight away, completely unscathed, apart from scuffed leathers…… checked it over, and it had snapped half the foot peg off and the end of the gear lever, with a few scrapes to the fairings…… so got away lightly there. First on the scene was an old work mate of mine Bill Clague…… hadn't seen him in ages…… didn't know he marshalled, asked how he was doing, but he was more interested in how I was……… I was perfectly ok, so we wheeled the bike off up to the hedge…… had a bit of a yarn while we both watched the race in the long grass…… Juan was way out in front, then it was Big H and Nige in close company…… it still looked like Juan was trying pretty hard when he needn't have as he was so far out in front, so I left Bill to go to the edge of the track and gave him a 'Huge Gap' signal…… next time round I gave him a 'Slow Down' signal, to which he acknowledged and cruised to the finish to take the win…… He was obviously glad I did, because he mentioned it on the Radio afterwards, while being interviewed by Chris Kinley…… then confirmed when he told me that he had been waiting for me to do it for the previous few laps!!…… great minds think alike…… Started the bike up and rode it back, still managed to change gear, as it has only broken the end off the gear change lever, and as the foot peg was still half there, so it wasn't too bad…… Got back to the Awning, and was told to go and see the Medics in the Ambulance, standard procedure to anyone that tips off…… as it was half a bloody mile away, I had to run………… there was nowt wrong with me so it didn't take long, but still had to rush them as I was out in the next race, Andreas Chairman, Big Terry Holmes came and got me to give me a lift back and I made it just in time for the 600 race.
Lined up again on the front row, this time for a 6 lap race, which was round 4 of the Formula 600 Championship and was pretty aggressive into the first crossover chicane and got into second spot behind Beattie…… was keeping up with him all the way round except at Nan's, at the exact spot where I had crashed in the previous race…… every lap round I was looking for the friggin ridge in the road, so that I wouldn't ride over it and must have been losing half a second a lap…… gained some of that back into the Perimeter section, when I gained on Nige, who was leading, but he pulled some more back when he was getting the power down earlier than me…… on the last lap I could hear a bike behind me and thought that it must be me Bullock Team Mate Kinnish, he must have been close as I was using ear plugs!……… into the hairpin for the last time, and young Murphy showed me his front wheel…… I had opened the door for him to be fair, but was well within my rights to 'wipe the nose right off him'…… but after watching from close range at how hard he was riding, thought that he would have us both off…… and took the safe option of letting him through, and he grabbed 2nd place from me…… there was only just over 2 seconds covering the top 4, so it was all pretty close racing…… all four of us circulating in the high 57's or low 58's…… still, it gave Nige another 5 points over me in the 600 Championship…… Shouldn't really be bothering me…… as I was only here to get up to speed, but its always nice to win innit…… Truthfully though, I wasn't expecting to be up to speed so soon……… but obviously glad that I'm up there.
Last race of the day was the 6 lap Champion of Champions race…… had to use the Team PC Racing R6 for this one as the Bullock Honda had been parked up, requiring some spares…… Was second to Kinnish in the last round, but that was to be expected, as he was on the 1000…… so second place was what I was looking for and the class win (first 600 home)… Was on the front row again for the fifth time today…… and knew I had to keep hard charging young Murphy at bay for the class win……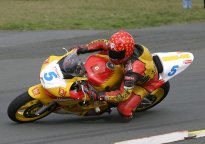 Got the drop at the start and was up to second place behind Kinnish…… was pretty close to him all the way round but had the odd look for Murphy as I knew he'd be close, and he was…… I was still losing time around the corner where I had crashed, and he was pulling a few yards on me, but I was holding him off ok and gaining some on him all the rest of the way around…… Into the last lap and into Nan's caught the tail enders, and managed to do them just before the Bus Stop, and knew that Murphy would be blocked, so steadied up to the finish and took the flag in second place only 3.6 seconds down on Juan…… so that was handy……
Had a word on Laxey Boy, Nige Beattie about suspension, and he gave me some advice and I had a bounce on his bike, which turned out to be completely different to mine…… had wanted to do this after watching how well his bike was handling when mine was squirming and bouncing alt over t'shop whilst following him…… so learned sommat there…… made a few changes to my bikes after that.
Had a lot of fettling to do, had to get the Bullock Honda fixed ready for tomorrow, so after a brief chat with Martin Bullock and spannerman Richard Rose, they agreed to rob bits from one of the other bikes to furnish mine with…… also took the fairings off it and fibre glassed them, where a bracket had poked through…… and tarted it up the best I could in the circumstances…… also changed tyres on both bikes with my new tyre fitting gear…… why I haven't had this gear from the start is beyond me…… it saves waiting in the paddock for over an hour with your finger up your arse while somebody bashes your tyres on for you…… and it gives you the option of changing tyres at Jurby, mid meeting, when that hadn't previously been possible…… my bead breaker was left with its tongue hanging out after all the times Kinnish and his spanner (man) Muscles Murphy had used it today.
After all that was done, we had a barbeque, courtesy of me good ol mate, Pub Racer (and MV Poseur), Juan Harrison and his wife Ruth who were also staying up Jurby in their camper van…… so that went down a treat…… done a few things in me time…… but sat up on Jurby Airfield in the dark on a Saturday night hadn't been one of them……… but I've done that now…… Then sat till after midnight talking shite over a few drinky drinks…… Couldn't believe how calm it was up there…… not a breath of wind…… Tipped into my wanking chariot at around 1-00am………ZZZZZZZzzzzzzzzzzzzzzzzz………… ………………………………………