Done a bit of work to the bikes throughout the week…… I was glad and relieved to eventually receive the Ohlins rear shock and the Chain and Sprockets for the Bullock Honda, and had the forks on the Yamaha R6 resealed, furnished with new fork oil and the air gap corrected, courtesy of Road & Track Motorcycles…… had to get all the stuff lashed onto the bikes, (even had to miss me footy on Saturday) and then all loaded in the Yum Yum Yellow……
The clocks went forward, but was switched on for it this year, and managed to tip up at Jurby at around 9-10am…… Stuey was already there and had managed to get the Awning up already…… Top man. He must have got there early.
Had no help lined up, and really could have done with some especially after I strained my back lifting the tool box out of the van…… I couldn't believe that happened…… was well pissed off…… it was that sore I had difficulty breathing for a while…… Struggled putting both the bikes through scrutineering, and all the little jobs you have to do like tyre pressures etc etc…… signed on then had a lie down on a hard flat surface………… aaaaahhhh…… Was really worried that I wouldn't be able to compete…… decided to go out in practise to see how I got on…… it was the last thing I needed all the same.
Must confess to being impressed at how the meeting was run, it was probably the slickest I'd ever seen it, there was no delay for extra Marshal's much to everyone's delight, a lot of thanks much go to the TT Marshal's Asscociation for their help. I think we all thought it was pretty optimistic for the 12-30pm start, but we were bang on for it, but had a delay when the race school had some hold up or other…… Still it was unusual, but I hope it continues……
As I had two bikes I could go out in all four practise sessions, it was even numbers out first followed by odds. Took the Bullock Production Honda out for the first two practises as they followed one another…… had I had any help I would have swapped bikes but, having to put stands on, tyre warmers etc on my own, I wouldn't have had time…… so it was the Bullock Honda for the first two sessions and the Team PC Racing R6 Yamaha for the last two…… had 4 or 5 laps on the CBR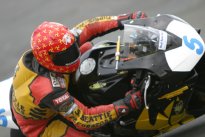 and went steady away an that…… but under heavy braking felt like it went into a bit of a weave, thought that the steering damper was either too tight or the front forks were a bit soft…… as this bike had been set up for the roads and not the tracks, thought that the latter was more likely……… so pulled in, surprisingly my back wasn't hurting me too badly when I was actually on the bike, it was more uncomfortable when I was off it……… again, we still had none of the team turn up, so had to get a passer by to hold the bike while I went for a screwdriver to tinker with the rebound and compression damping…… didn't take me long but I was still last out on to the track in the next practise session…… The tyres were warm so I could give it some more berries than the previous time out, and it didn't take me any time at all to catch the guys in front…… there were a lot of orange bibbed riders wobbling around and I was having a reet larf carving me way through them, on the second lap one of them nearly had me off at the first crossover chicane while I was going around the outside of him…… he just stood the bike up for no reason whatsoever, and nearly had me……… was hard on the anchors for that one…… phew! The new Ohlins rear shock was just set to all the middle settings as my plan was just to get extra track time by using this bike in the Open races, as I would be busting my hump to keep up with the big 1000cc bikes on me tuned 600, never mind a production machine…… so I made the decision to keep that fresh for the 600cc races.
The last two practise sessions I was out on the R6 Yamaha…… hardly got going in the first one as it was only 3 laps long, so it was straight back out in the next one on the same bike…… this time had my Bullock Team mate, Kinnish in front of me on the Bullock GSXR600 Suzuki, and he was taking no prisoners with the slower riders, awesome into the bus stop one lap when he went around the outside of one and went straight underneath another…… there was no room for error there that was for sure! Anyway, just tailed him round…… the clutch was slipping again, but when it gets well warm it disappears, this has happened a few times now, and its had new clutch plates, so it was quite surprising…… after about three laps it went so I could concentrate on what I was doing…… the ol R6 was flying again and I actually pulled in quite a few yards on Juan down the back straight…… he was pretty ruthless to a couple more back markers and after the session ended he had a look behind and I was right there…… quite enjoyed that. Pulled in and got the bikes refuelled etc ready for race one.
Race 1 was soon called, the 1300 Open Centre Championship Round 1…… I was allocated a place on the 2nd row, and lined up after one warm up lap on the Bullock Production 600 Honda…… the flag dropped and there was typical mayhem at the first corner as both Big H and Juan missed the chicane and went straight through it…… I had to line up in the procession to get round the hairpin, and then set off down the back straight…… counted that I was in 6th position, and was right behind Gary Carswell on his Gixer 1000, and he blasted away from me down the straight…… caught him at the bus stop chicane and was having bites at him all over the place but he powered away again on the fast bits…… actually managed to get him on the anchors at the hairpin and got the power down early and stayed over to the right hand side of the track so if he was going to pass he would have to go around the outside of me at Snuffies…… figured he wouldn't do it as I was going round there pretty handy meself……… could see the next guy up was actually Chris Heath, thought he would have been nearer the front…… had a bit of a rookie mistake at the bottom hairpin when I out braked meself and had to run off the track, this enabled Gary and young Sean Murphy to pass me…… bollocks lost two places…… young Murphy nearly had me as I came back onto the track…… more my fault that his, but a close one all the same. Got my head back down and couldn't get back past them, the little proddy bike just didn't have the legs, although I rounded Snuffies quicker than they did…… encountered back markers on about the 4th or 5th lap which was surprisingly early I thought……… still chased the two in front of me for the next few laps, and on the last lap we were all close together, Carswell took a wide line round Nans, which enabled young Sean to go underneath him……… Gary sat up and had to shoot through the cones which enabled me to get him as well…… crossing the line the chequered flag was out…… ???????? where the hell was the last lap flag?……… fooked me plan up of having a demon last lap manoeuvre on Murphy……… still 6th place it was, which wasn't bad considering, and a place I would have taken before the event…… I would have been happy enough with a top ten on the proddy bike, so 6th was a bonus…… the ol lap timer indicated a fastest lap of 1 min 00.2…… so fair do's…… Nige Beattie went on to win the first round, from Juan, then Big H……
Wasn't long before I was out in my next race which was the 600 Solo's Championship Race…… this time I was out on the Team PC Racing R6…… Was again allocated a 2nd row grid position…… had the warm up lap, and found that the clutch was still slipping…… bollocks…… got back to the grid and we were held as somebody came off on the warm up lap, so we had to go for another one…… and this time the clutch wasn't slipping…… result! …… and then we were off…… got a pretty good start and was 2nd into the first corner and haired off down the back straight and managed to pass young Murphy who had got a flier and was leading…… not any more as I hit the front before we got to Snuffies…… kept my head down and never looked back…… if the truth beknown, I felt that I was pretty much all over the place, and didn't feel like I was riding particularly well…… got to the bus stop and saw Murphy sitting on his bike in the grass at the end of all the white paint marks……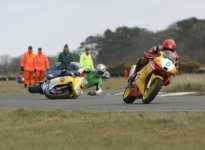 he had come off at exactly the same spot on the first lap of the first practise…… bizarre!…… apparently it was lucky for me that I had pulled a few yards on him as he could have skittled me when his bike skated off down the track…… I wouldn't have known anything about that…… was still half expecting somebody to show me their front wheel, every time I rolled the throttle or made a mistake…… knew it wouldn't be Juan when I saw him pushing his bike in the grass down the back straight, well that was one of them out of the way, but I still had Big H, Beattie, Heath and the rest to contend with…… kept my head down for the full 8 laps……… encountered quite a few back markers which slowed me up, and having no pit board or signals was still expecting to be nobbled, but carved me way through them with the minimum of fuss…… actually had my knee down rounding Snuffies going up the inside of some more, which was a first for me, and meant that I must have been well cranked over for that to happen, what with me and my non knee down style…… had the bike sliding a bit on the last couple of laps, and on the last one had a look when I was on the back straight and couldn't see anybody…… thought I must have looked the wrong side, couldn't look round the other way as my back hurt too much, so was pleased that nobody had a go and I took the chequered flag in 1st spot…… had a look behind at the end and I actually had quite a big lead…… on the cool down lap, big H pulled alongside me and applauded me, which I appreciated…… was quite chuffed. Had a fastest lap of 58.1 secs, which was not bad either…… pulled in with all the team smiling…… not a bad start, felt pretty optimistic as I didn't feel like I had ridden that well to warrant a win like that…… so was upbeat about the next one…… get a good start and I was confident of doing well…… knew the others would be wanting to stop that though. Was pretty pleased to be on the pace, as I hadn't done many tracks last year…… you've got to keep doing them to keep up to speed, and exactly 12 months ago I had wrecked the R6 in practise…… that was still in the back of my mind, didn't want to be doing that again.
Had a bit of a break, as I wasn't out for another 5 events…… and just took it easy…… me back was still sore however but at least I could breathe with no difficulty, which was a relief and it only hurt when I twisted so I tried not to do that.
Was out in round 2 of the 1300 Open Centre Championship and was on the 2nd row again……… Didn't get the Bullock Honda off the line as well in this one and was out dragged, unsurprisingly to the first corner and was blocked a bit…… saw that it was Carswell leading, but he was soon overhauled by Big H and co, I managed to out brake a couple and was actually up Nige's chuff going around the Perimeter section, but he dragged away down the back straight on his new R1…… saw that it was Juan leading followed by H, but the next lap round saw that it was the other way round…… and H had a healthy lead…… I managed to get past Gary and was holding station in the position I was in, and saw that it was Heathy again ahead of me…… couldn't make that much impression on him as the wee Honda couldn't carry me any faster, not without getting into all sorts of shapes that I didn't really want to be in………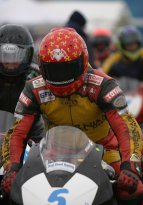 had a glance at the lap timer every lap and it was indicating low 60 sec laps………… mmmmmmmm…… I was riding it the same as the tuned R6 and I was 2 secs a lap quicker on that, was wondering had I been out on the R6, how close to the front I would be…… still it was all mileage…… and I managed to get it home in 5th spot. Found out later that me ol mate Juan had gone off the track coming onto the start finish straight and ended up on the grass, and nobody knew how he saved it……… shame I missed it…… apparently it was amazing.

So was pretty happy so far……… a 6th, a 1st and a 5th……… never thought I would have been that high up the field at this early stage……… was starting to wish that I had a superbike, cos I knew that I would be running at the front on one of them…… next up was the second 600 race.

Was on the 2nd row again for this one, which was reduced to 6 laps…… didn't get the best of starts and saw Nige hit the front, followed by Sellsy……… I was actually too nice here, and should have barged my way through, but didn't…… couldn't get past him round Snuffies without doing a really rude manoeuvre, so had to sit and wait…… this enabled Big H to barge his way past me at the bus stop, when there was no room… just for a change!… set about trying to get him back, but both H and Sellsy were too close and too wide to get them both in one go……… saw that Nige was getting away, which didn't help…… coming out of the chicane onto the start / finish straight, Big H clouted the kerb, and he was lucky to stay on…… he was off towards the grass with his feet off the pegs, but the big bastard never even shut off!…… and he still managed to stay ahead of me…… if it would have been anyone else I would have had a go at him on the brakes into the first crossover chicane, but knowing H the way anybody that's raced him does, he would most certainly wipe my nose, and if I did manage it he would be underneath me at the next corner…… I had to get him, and then pull a few yards so that he couldn't get me back, but its all easier said than done. Managed to get Sellsy into Snuffies by nipping underneath him at the same time Big H went around his outside, must have been interesting watching from Sellsy's position……… by having the wider line, H had the racing line so had to let him through…… next lap round he had a look and I was right up his chuff, and I pulled alongside into Snuffies but backed off because I knew he wouldn't, and it would have ended in tears…… I was faster than him in some places and he was getting the power down earlier than me in others, but I had to get past him somehow……… it did look though, that we were gaining on Nige, but I'm sure I could have caught him quicker if I could only get past H's lardy arse……… and he doesn't back off much either. On the penultimate lap was right up his chuff into Nans, and there was only a fag papers gap between us when he clipped a cone with his elbow…… the bastard thing bounced up and hit me full on…… on the right hand side and my right arm…… OUCH!…… it put me into a hellish wobble which forced me off the track, came back on but had lost the tow…… was well pissed off…… tried hard to make up the gap and I was doing not bad but never had enough laps to do it in, and took the flag in 3rd spot……… would have been happy for that position at the start of the day, but had wanted to win it…… but letting Nige get away at the start never helped, and hesitating on doing Sellsy enabled H to duff me up…… all schoolboy errors that I will have to sort out. But on the plus side I think a 1st and a 3rd will have me leading the 600cc championship. Juan told me later that when the cone bounced off me it clouted him next and had him off the track as well…… but he came back on and finished 4th…… so the minimum of damage done……

Wasn't going to bother with the Champion of Champions race, but I had entered it just in case I fancied it, as it was only a measly £6…… that must be THE cheapest race in Britain. Kinnish was a bit disappointed that I wasn't out on the R6, as on that we could have had good dice on that even though he was on his Gixer Thou…… this time on Supercorsa's instead of Slicks, which put his lap times nearer to mine (on the R6 that is) I was actually on the front row for this one, and was on the bugger all by myself!…… the rest of the troops were on row 2 and back…… got an average start and was third into the first corner, behind Juan who was leading and Derran Slous who was On the ex Cringle Construction R1 Yamaha…… out braked Derran into the Hairpin and set off after Kinnish……… didn't expect to be as close to him as I was and was only a of second or so behind for the first two laps, but he was dragging away from me as I held 2nd spot……… could see him all the way round but had no chance of catching him and had a really steady, uneventful, enjoyable ride to the end and took the flag in 2nd spot, and the first 600 home…… so that means I'm leading that class as well……… I wasn't going to do the full championship, but I might have to reconsider now.

Took us quite a while to pack up and were the last to leave and went to the Jurby Hilton for the Prize Presentation which was a good laugh and was well attended, which was nice to see…… then headed off for home, with me back stiffening up nicely. That might mean that I'll have to miss the gym forra bit.

So tune in for another exciting, dust collector (trophy) winning episode of ……………………………………………………… Tommy Clucas Racing.

..

..

.

.........