Whaddayaknow……… The new season has crept up already…… don't know where the time has gone, but then you never do…… I'm usually well ready long before now, but unfortunately for one reason or another I wasn't as ready as I hoped I'd be.
Stuey had his big New Iveco 75E15 Race Truck mostly finished and came down on the Wednesday night to load it up…… he'd done well in the time he had to do it and managed to fit a wooden floor, couple of bunks, cupboard, cooker, fridge, sink and even a shower, most of it from an old caravan…… well handy that……Took us a little while to load up, but managed to get that all done, and both riders perfectly okay.
Met him and his girfriend Rosie, the next night in Douglas to catch the ferry to Heysham, via a quick trip to Tesco's to get a few supplies. There were a few other Manx lads on the boat going to the same venue…… Pete Hounsell, Nigel Beattie and their crews and we were meeting more of the Manx Lads at the track…… They had gone a day earlier for various reasons. Stuey did all the driving with Rosie riding shotgun, while I was getting rocked like a baby in the back of the truck…… Arrived at the circuit at 2-00am…… and after a bit of messing about, getting the garages sorted etc, hopped into my bunk for some serious Zeds…… Zzzzzzzzzzzzzzzzz……
It absolutely pissed it down in the night and the wind was howling like a banshee, even with me earplugs in it woke me up a couple of times…… it was that strong it was rocking the truck quite a bit…… felt like we were still on the boat…… or maybe it was Rosie and Stuey on the top bunk, having a bit of 'how's your father' … an that.
I had brought the Team PC Racing R6 Yamaha and the Bullock CBR600RR Honda production bike that I'll be using in the 600 Proddy TT…… Stuey brought his R6 Yamaha (My old No 2 bike). All the Manx lads had been allocated garages 6,7 & 8…… and it was pretty crowded to say the least…… in our garage (No7) we had my two bikes, Stuey's R6, Pete's GSXR1000,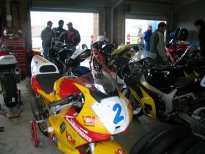 Juan had his Bullock GSXR600 & GSXR1000 and we also had our good mate, MRO 600 Champion, Chris Platt with his new R6…… apparently the garages are meant to be shared by two!!……… swoops! The R6 hadn't been run since it had been fixed by none other than Dave Hagon back in November 2003, so I was quite keen to see if it was as 'mega' as he assured me it would be.
The weather was dreadful to start with but the sun came out early on, but there was a really strong wind blowing…… the only advantage of that was it would dry the track…… They delayed the test day because of the wind, but they let us out just before dinner time, to have a wobble round if you needed to run your bike in or the like, I had only booked the afternoon session, but managed to blag me way out…… I have never done Croft before, and wobbled round like a blind man, and half a lap later the red flags were out…… some numpty came out of pit lane and promptly fell off at the first corner…Doh!… took about 10 minutes to get it cleared up and going again, and I only managed to get another 3 laps in…… it was f*ckin terrible…… was getting blown all over the place and it was absolutely no fun, had to actually lean the bike into the wind down the start finish straight just to keep going in the line I was in…… popped a wheelie a couple of times on the power, and the wind caught it and it crossed up on landing and I wasn't even trying very hard…… not looking good. There was also leaves and shite all over the track at the back end of the circuit…… had to tip toe through that as well…… Never really had time to learn the track, as I was concentrating more on staying on it, Jurby Airfield is usually bad for being windy…… but this was ridiculous. Pulled in and set about changing some of the suspension settings on the bike as it way too soft…… but that also might have had something to do with the wind bouncing me all over the place…… Had dinner break and waited to get our next session in……… we were all pretty disappointed to find that we only had 2 x 20 minute sessions in the afternoon…… a bargain that…… not.
The weather cleared up a bit, the sun was shining, the wind was still strong though…… went out on the R6 again, caught up with Big 'H' on about the 3rd lap into the 'complex' and dived up his inside only for him to pass me back down the back straight…… then he slowed up and I passed him again at the double right hander at 'Sunny', only for him to pass me back…… got caught behind two geezers on big 1000cc bikes…… and was up their arse out of the bends but lost loads of ground down the long straight bits.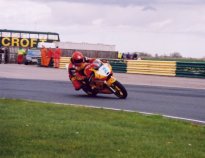 The R6 was going well, so thankfully its well sorted and now tested…… only trouble was, that there was a muppet riding it…… was way off the pace, hadn't been on a bike for 5-6 months, but it still didn't make me feel any better…… pretty disappointed if the truth beknown. Platty however was flying and must have been the fastest man on the track. He came past me like I was standing still and I watched as he carved his way through everyone else and bugger off into the distance…… impressive stuff. Noticed that when I got in that the bike had oil down the right hand side…… Bollocks! I think it was coming from the RH fork seal…… bollocks again…… cleaned it up, but without testing it, I wouldn't know for sure…… it was hassle I didn't need all the same.
The last session I took the Bullock Honda CBR600RR that I will be using in this years TT out for a spin…… (I could have done with testing the R6, but had to have at least a go on the CBR) this bike had only been ridden on the roads, and it was still very much in production trim…… and it still had standard road gearing on it and a standard exhaust, and rear shock even…… something that did concerned me a bit…… I have got one on order, but surprise surprise… it hadn't arrived. I was quite surprised to find that the Honda was pretty responsive but it just wouldn't steer…… every time I came out of a corner it drifted out towards the grass, I think I wasn't helping it the way I was riding, being far too rigid and stiff on the bike…… but like I said it was my first outing in 5-6 months…… and it probably looked like it…… still it was pretty unnerving all the same that the bike wouldn't hold a tight line…… as it had a standard rear shock I wouldn't be able to adjust the ride height on the rear as it has no adjuster, so that meant I would have to drop the front forks through the yokes to alter the steering…… so set about doing this, only dropped it by 5mm, wanted to go more but Phil Stewart (Croft Champion) advised me not to go too far (he runs an RR Honda)…… so will have to try it tomorrow.
Found out that they were doing scrutineering from 4-6pm…… thought that that would be handy to get it out of the way instead of doing it first thing in the morning…… the forecast wasn't too good, so felt that it would be best done now than standing in the rain tomorrow…… by this time it was bloody freezing…… Got the Honda through first then had to queue up again to do the R6…… would have been handy having a spannerman along that was for sure, but alas, didn't have that luxury this weekend. The scrutineer bounced the front end of the R6 and it went 'boinnnnggg'…… f*ckin hell, what's happened to the damping…… took it back to the garage and had to make adjustments to the rebound and compression damping…… it was too far to maximum for my liking, was gonna have to have a look at that or I definitely wouldn't be using it. We all had a go in Stuey's new shower in the truck, and it was pretty good I have to say. Never bothered going to the pub with some of the others…… had a bit of an early night.
Saturday 20th
Got up at about 8-30am…… the weather was pretty bad……… f*ckin awful actually. First job was to change wheels to the ones with the wet tyres…… unfortunately the only wets I had fitted to wheels were for the Honda, didn't have enough wheels to go round…… I had intermediates fitted to the Yamaha R6 as I only had one set for that too…… but by fitting a set of each to the wheels I had, I was covered for every eventuality…… No need to get the bikes scrutineered again, but had to queue up to sign on and then after that had to fettle the bike ready…… so set about getting that done…… went out in the first of my two practise sessions on the Bullock Honda Production R6 and wobbled round like everybody else…… some of the blokes were flying though……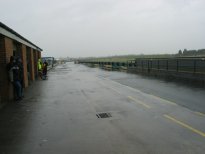 there was standing water all over the place, but mainly at the first corner where there was a huge puddle…… had to go off the racing line to avoid it…… got the back end spinning up coming out of the chicane, and felt the bike would have definitely have benefited from having a smaller toothed front sprocket…… as I could have done with the bike picking up quicker…… I lost a bit of ground on the blokes in front, but gained it all back on the brakes into 'Tower' where the back end of the bike was sliding 'alt over t'shop'…… still felt the bike didn't steer as well as it should, but without aftermarket bits and bobs, I had no option to run with what I had…… I couldn't drop the forks much more through the front yokes as it would give me less travel and might bottom out the front earlier than it should……… this was all, not good…… but it was too late now…… had about 5 laps and then pulled in…… soaked. Found out that so far I had qualified 10th on the F600 grid, which I thought was not too shabby considering…
The weather deteriorated again, and there were more puddles appearing, but practise still went ahead…… had a good dice with Nige Beattie in the second one on his Road & Track sponsored, ex Jason Griffiths Yamaha R6, but it was pretty hard to see with all the spray that the bikes in front were kicking up, I managed to pass Nige going into the Chicane, but he got me back on the brakes into Tower, and I nearly ran into the back of him round the next two corners…… got baulked by some geezer but we both went past him out round the back of the circuit at 'Sunny'…… had a bit of a slide, the back came round like it was speedway style, which put me off for the next couple of corners and I lost ground on Nige…… rounding the last corner the chequered flag came out, and we pulled in…… I thought that the conditions were actually worse than they had been, but I had lapped 5 seconds quicker, but had gone down in the pecking order to 13th in the F600 class with a 1 min 54.7 Nige ended up about 7 places ahead of me and he was only one second quicker…… so there was a few lads around the same time…… The quick boys however, were a lot faster, around the 1 min 46 sec mark…… namely Wee Bob Grant and Phil Stewart…… Wee Bob races all the time in the wet at Knockhill, and Phil was Croft Champ so he knew where he was going……
The weather got worse again, so they called over the tannoy that they had decided to delay proceedings to see if the weather was going to get better, apparently a couple of riders were blown clean orf…… Big H decided if it didn't get a lot better he wasn't going to bother……… funnily enough, I could see where he was coming from…… could hear him knocking in fact, knew exactly what he was saying etc etc……… So we sat and waited.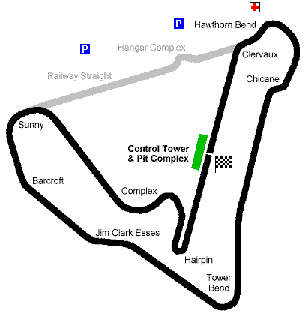 Amazingly enough the sun came out, and there was even a bloody rainbow…… it started to dry the track quite a bit, but the wind was so strong there was still a delay…… they asked a few riders to go out and test the track, and they all came back and said that the wind was still too strong…… so the organisers made the decision to cancel the days racing…… a bit disappointing but what can you do. Juan commented that he was getting blown all over the track…… not so bad when your on your own, but if you were in a group, and it happened to one person it might take everybody down…… so probably the best decision made.
Set about giving the bikes the once over…… confirmed the fork seal leak on the Team PC Racing R6 Yamaha and found that it had 20mm worth of fork oil missing, so topped it up with some 5 weight oil I managed to cadge off 'Wee Bob'…… don't think it would be a good idea to use the bike, but it would be ready all the same to act as a spare if nowt else. Helped Juan change some tyres on my Bullock CBR Honda, and his Bullock Suzuki's so that we had some brand new Pirelli Supercorsa's fitted to the spare wheels if it did dry up, best to do it now while we had some time. Did a spot more tinkering then caught up with some diary work on the new Hibernian Web Design sponsored lap top pooter……………… Factory! Went into Darlington for a few beers with all the other Manx lads…… never had any shoes with me, so put some dark blue socks over my trainers to get into a few of the pubs that had a dress code…… it worked a treat……had to blag my way into one place when the bouncer spotted my trendy foot ware with the help of Big H and the rest of the lads shouting my case ……… tried to convince him that my shoes were 'suede'…… har har…… didn't have too late a night, as it's difficult to race with a headache / hangover. Tipped into my wanking chariot just after midnight.
Sunday 21st March
Was awake about 8am, but never dragged myself out of my pit till nearly ten. The weather was decidedly dodgy and it was raining again…… treats. The racing was a late start today, (12-30pm) with some practise at midday…… decided on taking the R6 out for a test as this was set up better for the track than the Bullock Honda. I had used a wrist sweat band and cable tied it around the leaky fork leg, hoping that it would soak up any oil that might seep out. Team PC Racing Manager, Chris kept me up to date with the weather forecast via the text message service and it had given showers throughout the day, but at this moment in time the sun was actually out, but it would freeze the bollocks off a brass monkey…… still it was better than I had expected it would be, especially after yesterday's disaster. I hadn't been looking forward to it all that much as I had been so far off the pace it was embarrassing…… I was just hoping to give a better account of myself today, but at the same time, stay on the bastard, as my priority was to come home in one piece…… this weekend was all about having some practise. Me good mate, and top pit board man, Simon, turned up to cheer us on as he has done quite a few times now, hadn't seen him since the Manx Grand Prix when he was sat in the hedge at Sulby Bridge with my board.
Went out in the second practise session on the Team PC Racing R6, and followed Juan Kinnish around for a lap until it was red flagged…… there was somebody off somewhere, but didn't know who it was…… anyway, kept following him round for another 4 laps and my lap timer indicated 1 min 35.06…… felt slightly better after that…… the conditions weren't the best with a few damp patches and I had circulated nearly 5 seconds faster than the previous two days, and I wasn't trying that hard.
Decided on leaving the Honda with the wet tyres on it, and if it stayed dry was going to keep using the Yamaha, even with the leaky fork leg. Race one was called and I took up my 13th place on the grid (4th row)…… Juan was on the 2nd row, Nigel on the 3rd, and Stuey was right behind me on the 5th. The red lights went out and we were off…… I got a pretty good start and made up a few places and then some more by going around the outside of a few at the first corner.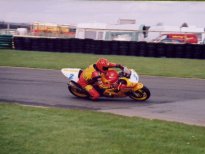 Managed to get past Nige at this point…… was feeling pretty good and there was only one geezer in between me and Juan, but I managed to get him on the brakes into 'Tower' and set off after San Juan the Fireman, but the red flags came out and we were halted and had to wait out the back of the circuit. Didn't know it at the time, but two of our lads, Jon (Kennaugh) and Angus (McMahon) had a coming together and both went down and into the tyre wall…… the race was delayed for about 10 minutes while the marshals cleared it up and the boys were carted off in the meat wagon to hospital…… turned out later that they weren't too bad, but I bet they'll be stiff later in the week. Angus had his arm in a sling, and Jon was walking around like he had shit himself, minus his boots which seem to have disappeared. Had to laugh when Jon said he had heard Angus say 'sorry' as the were sliding down the track just before they both ploughed into the tyre wall.
Got blocked a bit on the restart by the sheer volume of bikes, but settled in behind Nigel Beattie for a couple of laps till he went wide at Tower and I nipped underneath him…… got my head down and tried to pull in the two guys in front, one of which happened to be Juan…… wasn't closing the gap all that quickly, but did when all of a sudden Juan pulled out, and I whizzed past…… was a lot happier than I had been when I glanced at the ol lap timer and it was indicating times in the 1 min 31's…… at least I was somewhere nearer the pace…… started to breathe through me arse a bit, which was surprising considering the amount of time I have been spending in the gym, and felt that I had slowed up…… confirmed by the lap timer when it was indicating high 1'32's……… thought that Nige would be having a go at passing me back…… on the last two laps, my arms were pumping up badly and I was losing my grip and made a few mistakes and I heard a bike up my chuff…… thought it was Nige but it wasn't, it was some other geezer on a Suzuki and he nipped up my inside at the hairpin before the start finish straight……… pulled back along side him on the power down the straight but never made an attempt to pass, just tucked in behind. Was chuffed that the R6 felt this good, she was fast enough and I even had me knee touch the tarmac the odd time…… never managed to get the bloke back before the end so settled for the position I was in which turned out to be 7th. Not bad…… had a fastest lap of 1 min 31.74 which was over 3 seconds quicker than I had gone in the morning practise and 8 seconds quicker than Friday (and the wet Saturday). Was happy enough with that……… knew I could have gone even quicker, but didn't want to push my luck. The tyres I had on weren't new either, and it never helped that I wasn't getting my lines right on some of the corners…… but at least it was a big improvement. The old 'leak stopper' sweatband seemed to be doing the trick, but the bike still needs new forks seals…… shouldn't really have been using it, but the Honda needs to be fettled with new gearing and rear shock if its going to be worth riding that in the dry…… got to get the bastard to steer better.
The heavens opened and they cancelled the sidecar race and called the 'Laird of Croft', always makes me laugh that…… they cancel a three wheeler race and send the two wheelers out!…… I was toying with the idea of going out on the Honda, but it had only been a shower and I opted for the R6 again with the Supercorsa's fitted, hoping it would dry up…… most of the boys tipped up in the holding area with wets on…… Local man and fellow MGP rider David Bell gave me a nudge and he was on slicks, so I felt slightly better after that…… Was on the third row this time and got an average start and from the first corner through the two chicanes all the way down the back straight to Tower corner it was piss wet…… had to tip toe through there and went underneath Beller on his Gixer Thou before the chicane but he passed me back down the back straight……had a few slides which put the willies up me a bit, and so backed off to make sure I stayed upright and lost a few places because of this, but kept on telling meself that it was just practise, so never minded too much and just wanted to finish, which I did in 12th place…… Had hoped for a top ten, and was running in that position, but the places I lost had obviously dropped me back a few notches…… never mind ay.
When I pulled in Rosie asked me if I'd seen Stuey……I answered I hadn't…… turns out he tipped off after the first corner, when the bike locked up underneath him and spat him off…… luckily it was only a slow speed spill…… when he got it back to the garage it sounded like the starter motor had jammed, but on closer inspection after taking the engine casing off, the bracket that holds the magnetic pick up had come loose and jammed in the flywheel and spat him off…… lucky it was on a slow part of the course! I changed his wheels to intermediates after another shower of rain, while he tried to sort the problem, but it was flooded and he couldn't start it and missed his next race, much to his disappointment…… I rushed to get ready, and was back on the 4th row again, in the second of the Formula 600 races…… got a pretty good start and tucked in behind Nige again in this one…… Juan wasn't too far ahead, but there was a geezer in between us and he was holding us up a bit…… Juan eeked out a gap that we were never going to make up and after a few slides I backed off and let Nige and this other bloke disappear while I held station in the position I was in…… that was until I had a slide on a damp patch approaching 'sunny 1' …… so sat her upright and overshot……… went down this slip road and had to go over the wet grass to get back on the track…… not good… took it steady for the next few corners in case my tyres had mud on them, which meant I wouldn't be making the places back that I had just lost…… the last lap flag came out and I just had a steady ride to the end…… I ended up 9th in this one, which wasn't bad, would have settled for that before I came…… and I still hadn't used any of the new tyres I had brought…… that was a better result. Save them for a better day. Packed up the truck, said a few ta-ra's, had sommat to eat and a shower then headed off to catch the 0215hrs ferry to the rock…… pretty knackered now…… Even stopped for a chinky in Morecambe (no pun intended).
It was quite a mixed weekend for the Manxies…… Si 'Goose' Fulton buggered off on the Saturday as there was no racing…… we had Stuey, Mark, Jon and Angus all off (all relatively ok)……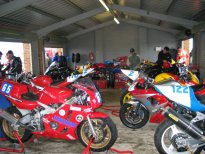 Big H didn't last one race as his mighty F1 Gixer Thou shredded his 16.5" rear tyre before even one race had finished and he ended up not competing, not much point if the tyres won't go the distance…… Juan and Nige however had a good day, with Juan nabbing a 2nd in the Open Race and Nige a 4th. The extra track time they had obviously benefited as they were getting faster as the day went on…… and I had a pretty unspectacular weekend, but got what I went for. I had set myself a target of getting into the 1 min 32 sec bracket, and I had bettered it, so not bad for the first outing of the season. Better get me arse in gear and get both bikes fettled ready for the next one…… and start running at the pointy end.
So, tune in for another very exciting, tyre saving, target hitting, windier than Jonny Fartpants episode of …………………… Tommy Clucas Racing.
……………………… (That'll be at Jurby next week then.)

..

.

.........